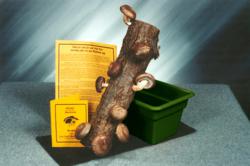 Growing shiitakes is a happy way to be in synch with the season and to celebrate the upcoming holidays -- serving and sharing your own fresh-grown, log-grown, organic, shiitake mushrooms.
Perkins, OK (PRWEB) October 23, 2012
Shiitake Mushrooms: Nature's medicine cabinet, high-protein/low-fat food supply, and mood elevator.
This is their natural season, with fall rains and falling temperatures.
A shiitake mushroom log kit from Lost Creek Mushroom Farm will expand on Mother Nature and produce a crop about every two months for years. Two logs will produce a harvest every month by alternating the producing log.
The world's second-most favorite mushrooms will grow in the living room like plants or outside in shade. Kits come in several sizes and designs. All logs 10" long or larger are fully guaranteed to grow shiitakes. Kits include instructions, eight recipes, and a natural hardwood log ready to grow mushrooms.
According to Doug Williams of Lost Creek Mushroom Farm, "The mushrooms will sprout out of their logs as tiny buds, called pins, and in just few days, they're ready to harvest. Even after 25 years, I still get a kick out of watching them poke through and grow on the log."
Doug cuts oak, hickory, sweet gum and other hardwoods in the winter when the sap is down. He drills holes and injects the seed material, called spawn, into the holes. It takes about 8-12 months for the shiitake to grow inside the log before the mushrooms break through the bark.
"To start the mushrooms growing, you shock the log by soaking it in non-chlorinated ice water. You're lowering the temperature and giving it plenty of water, just like the fall rains," Doug explained. "You're imitating nature, allowing the log to bloom with its mushrooms every two months instead of just spring and fall."
"We have a shiitake kit for everyone," said The Mushroom Lady, Dr. Sandra Williams, "small logs, large logs, plain logs, 'shiitake décor' logs in a beautiful vase, and logs in their own trays for all phases of growing – soaking, storing and fruiting."
Prices range from $18 for the 6-inch 'Shroomie to $80 for two 14" logs with soaking trays. A single 10-inch log is $29.95 and the Ma and Pa kit, with two 10-inch logs, sells for $49.95. The original tray kit with a 14-inch log sells for $45.95. The Shiitake Sampler Cookbook, for $7.99, adds 51 shiitake recipes to the kit. Prices include shipping and handling.
Log Care: Logs require maintenance soaking every two weeks in room-temperature non-chlorinated water. Every two months the ice-water shock starts the mushrooms growing. Logs produce just a few mushrooms at first, with increasingly larger harvests as they mature.
Shiitakes stimulate and strengthen the immune system. In Japan shiitake concentrates are combined with another mushroom, the reishi (Ganaderma), to treat cancer. Sandra added, "As a mood elevator, shiitakes can create feelings of joy. They're good for easing grief, especially grief from the past, and healing the emotional wounds of breast and female cancers."
Lost Creek Mushroom Farm donates a portion of its sales to The Voice of the Mushroom Foundation. Doug and Sandra formed The Voice of the Mushroom Foundation in 2012 to support their Mushrooms in Ghana Project. They have been teaching shiitake production and building a spawn laboratory to supply small-scale mushroom farmers, especially women, in Ghana, West Africa. The Voice of the Mushroom Foundation is promoting mushroom production as a tool for economic freedom, and promoting mushroom consumption as a tool for health and well being.