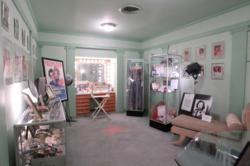 "So many memorable icons like Jeannie's bottle or Ricky Ricardo's bongo drums bring back nostalgia of the television shows and the legendary stars that we have all known and loved throughout the years." - Donelle Dadigan, President of The Hollywood Museum
Los Angeles, CA (PRWEB) October 17, 2012
"I Love Lucy," and "I Dream of Jeannie" are just samples of the television classics spotlighted in the "The Best of Television Memories" exhibit coming to The Hollywood Museum, the official Museum of Hollywood, on November 7. This exhibit, honoring the magic of television and spotlighting the memories that have captured the hearts of Americans over the past 60 years, showcases the largest selection of costumes and props from more than 40 television shows. The exhibit is on display through the December 12, 2012. The Hollywood Museum is located in the Historic Max Factor Building, 1660 N. Highland Avenue at Hollywood Blvd. http://www.TheHollywoodMuseum.com.
"So many memorable icons like Jeannie's bottle or Ricky Ricardo's bongo drums bring back nostalgia of the television shows and the legendary stars that we have all known and loved throughout the years," said Donelle Dadigan, President of The Hollywood Museum. "We are preserving these memories for fans of all ages to enjoy."
Television shows spotlighted in "The Television Memories" include:

"I Love Lucy" – See the original "For Red Heads Only " Makeup Room where Max Factor gave Lucille Ball her red hair.
"The Beverly Hillbillies" – See Jed's hat and other original costumes.
"I Dream of Jeannie" – View the original Genie lamp used in production.
"The Simple Life" – Paris Hilton's dresses on display.
"The Addams Family" – See iconic props including Morticia's tea set.
"Baywatch" – See Pamela Anderson's iconic red bathing suit.
Costumes from "The Sopranos," "The Carol Burnett Show," "Mama's Family," "V.I.P.," "The Sonny & Cher Show," "Dynasty," "Magnum, P.I.," "Battlestar Galactica," "Everybody Loves Raymond," "Gomer Pyle: USMC" and much more!
WHERE:
The Hollywood Museum
1660 N. Highland Avenue (at Hollywood Blvd)
Hollywood, CA 90028
(323) 464-7776
HOURS: Wednesday – Sunday: 10:00 am – 5:00 pm
TWITTER: @HollywoodMuseum
FACEBOOK: Facebook.com/TheHollywoodMuseum
ABOUT THE HOLLYWOOD MUSEUM
The Hollywood Museum, the official museum of Hollywood, has the most extensive collection of Hollywood Memorabilia in the World. The museum features four floors of breathtaking exhibits and is the home of more than 10,000 authentic showbiz treasures, one of a kind costumes, props, photographs, scripts and vintage memorabilia from favorite movies and TV shows. The museum includes costumes from Elizabeth Taylor, Marilyn Monroe, Jean Harlow, Elvis Presley, Michael Jackson; Props from Gone With The Wind, Twilight: New Moon, Star Trek, Transformers: Revenge of the Fallen, High School Musical 2, Dancing with the Stars, Glee, and more. The Hollywood Museum is located in the Historic Max Factor Building on the corner of Hollywood & Highland, where Max Factor, the movie makeup king, worked his magic on motion picture stars since 1935. The Hollywood Museum is a 501(c)(3) non-profit organization.