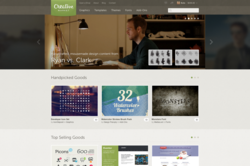 San Francisco, CA (PRWEB) October 18, 2012
Creative Market has opened the doors on their new marketplace for digital design content like fonts, templates, illustrations and themes. With nearly 100,000 users already signed up on their early access list, Creative Market is primed to challenge the old stock media giants by giving the power to the creators. Backed by top Silicon Valley investors, the Creative Market team has turned the traditional stock content model on its head after years of lessons learned building COLOURlovers.com to empower creatives around the world.
Existing stock media marketplaces only give the creators ~30% of each sale, and place many restrictions on their sellers including exclusivity contracts and control over pricing. Creative Market does away with all of that. Designed with the creators in mind, Creative Market gives every seller a 70% slice of each sale, and leaves them free to set their own prices without requiring exclusivity. Creative Market also empowers sellers to build their own custom storefronts and gives them powerful tools to track sales and build their businesses.
Creative Market has simplified the purchasing experience for both buyers and sellers. By simplifying content licensing, they've improved a long standing confusion that often prevents customers from making a purchase or driving them to ignore licensing rights altogether. There is also a straightforward pay-as-you-go system on Creative Market, so you know the real cost of the goods you're purchasing without needing a formula.
The digital design content market is huge says Darius Monsef, "We surveyed more than a thousand creatives and asked them what type of goods they buy, what tools they use, etc. What we found was that on average a user of Adobe's Creative Suite spends $150 a year on content like brushes, templates, icons, fonts, etc. Adobe reports they have 40 million paying customers of Creative Suite. That's a huge market just for the paying CS customers and Adobe doesn't have 100% of the design software market. There isn't an Apple App Store now that's connecting the creatives to the assets they want and taking a 30% cut on every transaction... This is the platform we're building and the market we're going to take."
The team behind Creative Market is not new to the design world, as they built the award-winning COLOURlovers.com creative community and have been providing design inspiration to tens of millions of users for the past 10 years. They're also hardcore technologists and alumni of the prestigious Silicon Valley tech incubator Y Combinator. Creative Market is entering a space dominated by old stock media companies like Getty Images with a fresh new approach and the experience and technical skills to reinvent an industry.
Creative Market today launched a public beta of their marketplace with a handful of sellers showcasing the variety of content the marketplace will hold. In the coming weeks, Creative Market will be rapidly expanding their number of sellers and content categories. "This is day 1 for us. So much hard work and thoughtful planning has got us here, and what we're showing the world is the tip of the iceberg... And having a hundred thousand users on day one that we've given $5 in free credits to will help get the Creative Market motor turned over and humming along mightily."
About Creative Market
Creative Market is a platform for handcrafted, mousemade design content from independent creatives around the world. They're passionate about making beautiful design simple and accessible to everyone.
Creative Market puts the power back in the hands of the creators by providing a simple & affordable way for indie designers to sell directly to their customers through their marketplace platform. And they make it dead simple for buyers to find affordable unique design content like fonts, icons, illustrations, templates and more, and purchase that content with an easy to understand usage license.
They've raised $2.3 million from top venture capital firms and angel investors like Charles River Ventures, Atlas Venture, Longworth Venture Partners, CrunchFund, SV Angel, Matt Mullenweg, Alexis Ohanian & Threadless.
Screenshots
Homepage: http://crtv.mk/aK
Product Page: http://crtv.mk/oN
Seller Page: http://crtv.mk/cG
About Page: http://crtv.mk/bL