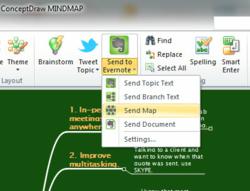 ConceptDraw MINDMAP and Evernote keep everything in sync, helping organize and share content anywhere, anytime.
San Jose, California (PRWEB) October 17, 2012
ConceptDraw Note Exchange Solution combines the power of Evernote with ConceptDraw MINDMAP to keep users' mind maps organized in an elegant form, and makes that content available everywhere at any time.
ConceptDraw MINDMAP can now, with the press of a button, save a either a single topic or a branch to Evernote for future reference. Saving the entire map's text with an image file export of the map is a third option, and the fourth is to save the text of the map, an image of it, and the map file itself. The fourth option allows mind maps to be viewed on virtually any device. Now ConceptDraw MINDMAP information can be referenced from most smart phones, tablets, and computers. Evernote supports iOS, Android, Blackberry, Windows Phone, Web OS, Mac OS X, Windows, Safari, Chrome, and Firefox – greatly expanding the possibilities for mind mapping. ConceptDraw MINDMAP supports Microsoft Windows and Macintosh OS X.
The combination of ConceptDraw Note Exchange solution for ConceptDraw MINDMAP and Evernote, provides users with better personal organization, better access to critical information, and be better ability to complete tasks on time.
ConceptDraw MINDMAP supports creative thinking and allows users to build simple or complex process structures that support business tasks and activities. Evernote keeps everything in sync, helping users remember things, organize maps and research better, and share notes and maps with coworkers, associates, classmates, and friends.
With the launch of Evernote Business in December 2012, users will be able to leverage ConceptDraw Note Exchange Solution to share maps and map data across an entire organization in a simple and straightforward manner. It will be a snap to share mind map content with stakeholders, run meetings with mind map agendas, take notes, gather requirements, launch projects, detail specifications, brain storm, establish baselines, build strategies, develop scripts, and much more – all shared with a single press of a button.
ConceptDraw MINDMAP is built to augment business success, and when used in conjunction with Evernote, creates a powerful combination to cut through daily noise and distraction, taking organizations to the next level of success. ConceptDraw MINDMAP retails for $199 per user liscense and is sold directly on the company's web site and via resellers around the world.
ConceptDraw MINDMAP and the ever-growing collection of product extensions in the ConceptDraw Solution Park provide ultimate flexibility and user-friendliness in a robust, full-featured mind mapping package. To learn more about the entire ConceptDraw brand of productivity software visit ConceptDraw.
About CS Odessa
ConceptDraw Productivity Line: http://www.conceptdraw.com
Founded in 1993, Computer Systems Odessa supplies cross-platform productivity tools and graphics technologies to professional and corporate users around the world. With headquarters in Odessa, Ukraine and offices in California and Massachusetts, CS Odessa sells products internationally through resellers in over 25 countries. The ConceptDraw Productivity Line of products has won numerous awards and is used by hundreds of thousands of people all over the world.
# # #
Copyright © 1993-2012 Computer Systems Odessa. ConceptDraw is a registered trademark, and ConceptDraw Office, ConceptDraw Solution Park, ConceptDraw PRO, ConceptDraw MINDMAP, ConceptDraw PROJECT, and ConceptDraw Solution Browser are trademarks of CS Odessa. All other trademarks and registered trademarks are the properties of their respective owners.