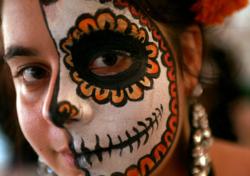 New York, NY (PRWEB) October 18, 2012
Join us for a special Super Sábado! as we celebrate Mexico's beloved 3,000 year-old tradition commemorating friends and relatives who have passed away. El Museo del Barrio's strives to celebrate the diversity of Latino, Latin American, and Caribbean cultures, has been bringing el Día de Los Muertos to El Barrio for more than a decade.
Día de Los Muertos, or the Day of the Dead, is typically celebrated on November 1st and 2nd with traditions such as building and decorating private altars with sugar skulls and marigolds, and visiting cemeteries. El Museo will build upon these traditional festivities by adding some contemporary flavor. Pop-up and street altars commonly seen on New York streets, such as a white ghost bike altar memorializing bikers who have been killed on the road, will be on display, as well as an altar dedicated to the late singer Chavela Vargas. La Catrina, an iconic Día de Los Muertos image of a skeletal mistress by artist Jose Guadalupe Posada, will be revamped by artist Michelle Melo. We will have a large altar, designed by artists Meyoltzin Abrajan, Xochiquetzal, and Susana García Farcier, dedicated to domestic abuse victims.
Super Sábado!: Día de Los Muertos Celebration features myriad events for your entire familia! View a vivid and vivacious procession led by Danza Group Calpulli Tletl-Papalotzin as it parades through Central Park ending at El Museo's doorstep. At El Museo, Children can get their faces painted like calaveras, or sugar skull. The festivities culminate in a rousing mariachi performance by the Mariachi Academy of New York and Mariachi Flor de Toloache.
Super Sábado!, Free Third Saturdays at El Museo is sponsored by Target©.
Visit http://www.elmuseo.org/en/event/super-sabado-dia-de-los-muertos-celebration-0 for more details.
Full Schedule:
Exhibitions On View
CARIBBEAN: CROSSROADS OF THE WORLD
and VOCES Y VISIONES: GRAN CARIBE
11:00am – 6:00pm, Las Galerías
Travel the Caribbean through our latest exhibition, Caribbean: Crossroads, and explore the rich and diverse cultural history of the region and its diaspora. Also, make sure to visit Voces y Visiones: Gran Caribe, an exhibition of art from the Caribbean that investigates race and ethnicity, language and dialogue, affinities and differences throughout this part of the world.
Procession
CALAVERAS CALLEJERAS
11:00am – 12:00pm, Dana Center in Central Park
Kick off the festivities with a colorful procession through Central Park, led by Danza Group Calpulli Tletl-Papalotzin. The procession begins at Central Park's, Dana Discovery Center at 110th Street and ends at El Museo's doorstep.
Face painting
MI CARA CALACA
12:00pm – 3:00pm, , Blackbox Theater, 3rd Floor
Calling all kids! Come have your face painted with colorful strokes to match the fabulous calaveras that surround you.
Art-Making
ARTEXPLORERS
12:00pm – 3:00pm, El Taller
Create your own special work of art inspired by the memories of your loved ones to be placed in our community altar.
Storytelling
COLORIN COLORADO...with Jorge Rubio
1:00pm and 3:00pm, El Café
Bring the family to this theatrical story-time, featuring a comical sketch about life and death based on the book "Just in Case" by Yuyi Morales.
Photo Booth
DIMELO!
1:00pm – 4:00pm, El Patio
Say Cheese! Capture your Día de Los Muertos superstar moment with family and friends. Once you're back home, you can view and share your photos online via Flickr.
Discussion
MEET THE ALTAR ARTISTS
2:00pm – 3:00pm, El Café and El Lobby
Come and listen to artists Meyolotzin Abrajan, Xochiquetzal, and Susana García Farcier as they discuss the making of El Museo's community altar. Artist Michelle Melo will also discuss her Catrina and Ghost Bike altar installations.
Concert
A MOVER EL ESQUELETO...Mariachi...
4:00pm – 5:00pm, El Teatro
Mariachi Academy of New York & Mariachi Flor de Toloache bring their guitarras, spectacular voices, incomparable sentiment, and mucho charisma to the stage!
________________________________________
El Museo del Barrio, New York's leading Latino cultural institution, welcomes visitors of all backgrounds to discover the artistic landscape of Latino, Caribbean, and Latin American cultures. Their richness is represented in El Museo's wide-ranging collections and critically acclaimed exhibitions, complemented by film, literary, visual and performing arts series, cultural celebrations, and educational programs.
Visit http://www.elmuseo.org for more information.
###
MEDIA CONTACT:
Von Diaz, El Museo del Barrio
T: 212.660.7102 I E: vdiaz(at)elmuseo(dot)org