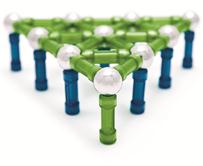 Austin, TX (PRWEB) October 18, 2012
Nomadesk, the leading developer of business-class file sharing software is honored to announce their placement as the 16th fastest growing company, and 3rd fastest growing Belgian company in Deloitte's Fast50 Competition. The rankings were announced at an awards ceremony in The Hague last Thursday, October 11th.
Deloitte's Fast50 program is part of a global effort to identify the fastest growing technology companies all over the world; rankings are based on a company's growth rate as measured by operating revenue over a five-year period. It is a recognized benchmark of success in the technology industry. The program, a resource that is critical to the continued rapid development of the region, draws attention to Central Europe's expertise in the technology sector.
With the growing number of virtual offices and traveling workers, there is an increased need for mobility of data and the ability to share files online. Unlike most cloud computing applications, Nomadesk users can view and edit files on-the-go, even with no internet connection. Nomadesk's private cloud option provides intuitive software for employees to use, without losing control over company data. The on-premises solution gives enterprises a superior level of flexibility and security, as well as added functionality with customizable features.
"Our strategy and continuous growth over the past few years have strengthened our position in the market," says Darren Trumeter, Nomadesk CEO. "We are proud of this recognition, and consider it confirmation that, as a company, we are moving in the right direction."
About the Deloitte Technology Fast50
The Deloitte Technology Fast50 competition is an annual election of the fifty fastest growing technology companies in the Benelux. Fast50 participants can be private or public sector companies and cover every segment of the technology market, including IT, software, internet, biotech life sciences, computers and peripherals, electronics, communication and networks, media and entertainment and green technologies. Finalists become part of the Fast50 network and can participate in seminars that are organized throughout the year.
About Nomadesk
Nomadesk is a leading provider of file sharing software, including private cloud for businesses, that enables users to share files virtually with unlimited storage. Customers can access, share, synchronize and safeguard files from any location, whether online or offline. With offices in Ghent, Belgium, Austin, Texas and Singapore, Nomadesk delivers their product around the globe. Nomadesk offers a comprehensive partnership program for software sales firms, and provides on premises cloud solutions for some of the largest business consulting firms in the world.