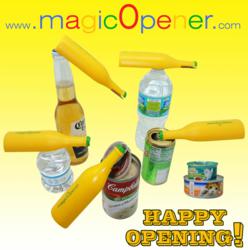 Thanks to magic Opener is now extremely easy to open any plastic bottles and pet food cans for seniors with limited hand strength
Miami, Florida (PRWEB) October 18, 2012
The magicOpener has taken a small but common problem – the struggle with bottle and can opening – and eliminated it with a comprehensive and innovative line of products. You'll never have to break a fingernail, stub a fingertip or break a sweat just to open a can ever again. And just when it seemed they thought of it all, they came along with this – Interchangeable Plates!
The innovators behind revolutionary products such as The Extreme magicOpener, The Ideal, and many others, have built their openers with a standard-sized twist-off cap in mind, but recognized that not all twist-off caps are made equal. Some are smaller; others are larger.
Problem? Solution! Customers can now purchase the Interchangeable Plates set from the magicOpener website and eliminate the size problem altogether.
Pablo Corredor, CEO of Easy Opener Inc says "Thanks to magic Opener is now extremely easy to open any plastic bottles and pet food cans for seniors with limited hand strength"
The Interchangeable Plates were, in fact, primarily a response to the variety in cap sizes of water bottles. If the standard-sized bottle or can opener isn't the proper fit, then ordering the set of three Interchangeable Plates is should be your plan of action. The Interchangeable Plates set comes with three additional sizes – XS – M – L – so you'll be able to use it all the time with your favorite brands.
Once you get them, follow instructions and you'll be set in just the blink of an eye!
Whether you're looking for a way to easily open different plastic bottles, aluminum Can Pop soda and/or beer cans, traditional glass bottles or you've tried other bottle openers with little or no success, Magic Opener ® may be the answer to a more confident easy daily successfully opening for most of the different beverage containers existing on the 21st century, including the newest coca cola plastic top or the latest small water bottle plastic tops. It does work very well, very easy, very fast and very comfortable on your hands ….as 1-2-3 guaranteed, or your money back.