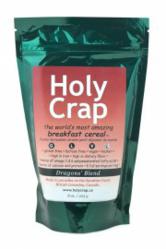 "It is our goal to support Holy Crap in providing their healthful cereal to children and people of all ages to create a healthier world." Jon Dessel, Founder & CEO of We Are Communities
Ontario, CA (PRWEB) October 19, 2012
We Are Communities Foundation today is proud to announce that Holy Crap Cereal is a new sponsor contributing to the fight against breast cancer and global health issues. We Are Communities Foundation is leading the way in raising funds for cancer research groups that have a proven track record of progressive research on the cusp of breakthrough cures of deadly diseases.
Jon Dessel, Founder and CEO of We Are Community Foundation Commented:
"We only align our foundation with the best-of-the-best organizations and research groups that are making a difference in our world today and into the future. Our partners must adhere to the highest level of ethics and transparency, while being able to prove their ability to optimize the use of fundraising proceeds provided to them. Holy Crap Cereal is a perfect sponsor partner for us not only because they have a product name that gets everyone's attention, but also because it is one of the most nutritious breakfast products available on the market today."
"While it is good that the advancements in cancer research have led us to discovering cures through vaccines for life threatening diseases, everyone must understand that their chance of being inflicted by an invasive disease is greatly reduced through good nutrition, clean water and a healthful lifestyle. If we can all think about stopping diseases at the source (based on what we eat and drink), we would be a much healthier nation. It is our goal to support Holy Crap in providing their healthful cereal to children and people of all ages to create a healthier world."
About We Are Communities Foundation
Founded by Jon Dessel. It is the mission of We Are Communities Foundation to be the promotional force for non-profit organizations throughout the world. Our "Make-A-Difference" system unites commercial businesses with the community they serve to create a self-sustaining economic program for non-profit organizations. We raise funds for valid education, health, environmental, and community-based programs in support of the advancement of man-kind. WACF supports Breastlink Research Group (BRG), Be Aware Foundation, and many community-based non-profit organizations making a difference. Phone: 866-947-7922 Email: info(at)wearecommunities(dot)org, http://www.wearecommunities.org
About Holy Crap Cereal
Founded by Corin and Brian Mullins, they created gluten-free, vegan, certified organic breakfast cereals made in Gibsons, British Columbia. There are currently three cereals in the product line: Holy Crap, Skinny B, and Wild Chia. The cereal was developed by Corin to address Brian's food allergies and sensitivities. Most healthy foods taste like cardboard and after formulating and testing 21 different recipes Corin found a winner. She created a new category of breakfast cereal that is 65% sourced from Canadian ingredients that tastes great!
Corin and her husband Brian's appearance on CBC's reality TV show, Dragons' Den in November 2010 generated over $1M from their online store the week after the show aired. A 2012 Dragons' Den special update show declared Holy Crap the most successful business ever to come out of the Den.
The cereals are currently carried in over 1,800 health food stores and grocery stores across Canada and expansion to USA retailers is underway. The company sells cereal but they are in the business of well-being. The products are becoming standard fare for such diverse groups as high performance athletes, diabetics, celiacs, dieters, outdoor enthusiasts, travelers, and people with high blood pressure, severe food allergies and other food sensitivities.
Corin feels that, "The keys to success are the eye-catching and humorous product names which draw people in to taste our cereals. Once they experience the benefits of the cereal they keep buying it and tell all their friends and family." Phone: 604-886-8860 http://www.holycrap.ca