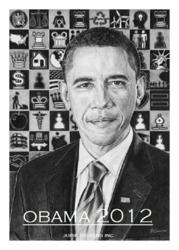 "The relevancy of the artwork and its urgent message about the issues increases daily - and sometimes between the morning and evening newscasts.
Vancouver, B.C. Canada (PRWEB) October 18, 2012
In just days, the outcomes of the US Presidential Election will decide the future choices for Americans, as portrayed in this thought-provoking artwork of President Obama by Jurik Designs. http://www.jurikdesigns.com The 2012 election is especially important, considering the strong political divides along how to address issues such as the economy, jobs, energy, education, healthcare, equality, women's health, financial reforms, immigration, the environment and innovation. Like them on Facebook or follow them on Twitter to possibly win an art print of President Obama.
At this critical moment in history, the issues have been hotly debated between the two Presidential candidates. Jurik Designs created artwork titled "Obama – Issues 2012" to provide a visual snapshot about the issues. A free download of the artwork is available on their website. http://www.peterjurik.com/gallery/obama_text.php
"Obama-Issues 2012" depicts a bold and striking image of President Obama in the foreground. Behind the President is a dramatic, eye-catching game of chess which utilizes symbolic images to showcase the important issues of the 2012 Presidential Campaign. "The chess game contains the important issues of the nation and serves to remind what is at risk of being lost," states Jurik Designs. "We chose a chess analogy for this artwork as we believe President Obama conducts himself like a great chess player; intelligent, thoughtful, informed and tactical. As in a game of chess, the master players are analytical in nature and have the brightest of minds."
The original pencil drawing (25 ¾" X 37") rein acts the chess positions from the immortal match between Kasparov versus Topalov 1999 (Kasparov's Immortal.) The original artwork can be viewed in a Youtube that brings the issues to life: (http://www.youtube.com/watch?v=3F_LXE9IeRk&feature=plcp) Along with the immortal chess game pieces, the remaining images on the squares represent the issues of Obama's re-election campaign. For example, the apple represents education; the Statue of Liberty represents immigration; the windmill symbolizes energy; the medical symbol represents healthcare. Also, the President's character strengths of integrity, global diplomacy and compassion are depicted with the images of the handshake, the world map and the heart. The forty-four chess squares are symbolic of Obama's 44th Presidency.
For more information about Jurik Designs visit them on Facebook (https://www.facebook.com/JurikDesigns), Twitter (https://twitter.com/jurikdesign). Original works range from classic automobiles, sailboats and wildlife to politicians, celebrities and athletes. Most recently, Jurik Designs partnered with the Japanese Skating Federation where partial proceeds from their artwork will be donated to the Japanese Red Cross, in order to assist with the losses from the 2011 tsunami.
Contact Information
Jurik Designs Inc
http://www.jurikdesigns.com
(604)618-0597