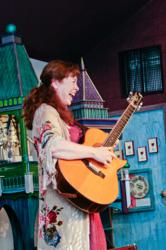 A Claudia Schmidt concert is a lot like falling in love; you never know what to expect.
Denver, CO (PRWEB) October 18, 2012
Claudia Schmidt, self-described "creative noisemaker," whose career has spanned four decades, countless miles and 15 CDs, will make her annual sojourn to the Mizel Museum for a live concert and a singing workshop.
Claudia Schmidt in Concert will be held Saturday, October 27, 7:00 pm at the Mizel Museum, 400 S. Kearney Street, Denver. Delighted audiences learn to expect anything at a Claudia Schmidt performance: hymn, folk, jazz, poem, bawdy verse, torch song, satire, stories and an entire gamut of emotions. Critics have described her concerts as "a lot like falling in love." For reservations call (303) 749-5015 or pay at the door. Tickets are $18.
On Sunday, October 28, 12:00 to 2:00 pm, join Schmidt for a dynamic, experiential workshop that celebrates the joyful nature of singing with a community that is part of our heritage as human beings. Participants will sing songs and do exercises together that remove barriers that keep us from singing from the soul. The workshop is for all lovers of singing; no prior experience necessary. Cost is $10 for Mizel Museum members; $15 for non-members. For reservations visit http://www.mizelmuseum.org.
About the Mizel Museum
The Mizel Museum is a portal to the contemporary Jewish experience. Exhibits, events and educational programs offer interactive experiences that promote community, understanding and multiculturalism. The Museum is located at 400 S. Kearney Street, Denver, where visitors can tour the new permanent exhibit, 4,000 Year Road Trip: Gathering Sparks, a dynamic journey through art, artifacts and digital media that narrates and illuminates Jewish history and culture. For more information visit http://www.mizelmuseum.org or call 303-394-9993.