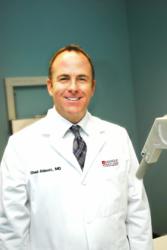 Dr. Abbott is a seamless fit within our company's culture that continuously strives for excellence.
Newport Beach and Rancho Santa Margarita, CA (PRWEB) October 18, 2012
Marque Medical is pleased to announce that Chad M. Abbott, M.D. is now practicing at Marque Urgent Care located in Rancho Santa Margarita and Newport Beach. Dr. Abbott is a highly regarded Board Certified physician who brings over a decade of medical expertise to Marque Urgent Care.
Dr. Abbott recently moved to Orange County after practicing for years as a family physician in Washington. He brings top-level expertise in acute and primary care, coupled with a deep knowledge of pediatrics, obstetrics, gynecology, dermatology, and sports medicine. Additionally, he has a special interest in mental health, allowing his patients the opportunity to discuss a range of mental health concerns, such as addiction and abuse.
Due to a growing and expanding operation, Marque Urgent Care set out to find additional physicians that could augment the team by continuing the tradition of top-notch medical treatment. Dr. Abbot's uniquely relevant experience, combined with the fact that he was looking for a place to practice his passion for exceptional patient care, makes Marque Medical a natural fit.
"We are excited to have Dr. Abbott as a part of our family of fine physicians. He is a seamless fit within our company's culture that continuously strives for excellence," says Pierre Bergougnan, CEO of Marque Medical. "He is an extraordinary talent," exclaims Dr. Nathan Kiskila, President of Marque Medical. "His technical acumen and clinical experience are just what we need to provide a first-rate experience for our patients."
Dr. Abbott received his Bachelor of Science degree from San Diego State University, his Master of Public Health from Tulane University School of Public Health & Tropical Medicine, and his Doctor of Medicine degree from Tulane University School of Medicine. He completed his residency at University of Washington, Seattle, WA. He has an American Board of Family Medicine certification.
Dr. Abbott resides in South Orange County with his wife and his two rescue pets. He takes advantage of the beautiful California weather and enjoys mountain bike riding and beach activities. He is also an active community volunteer and involved with Special Olympics and various homeless shelters. Patients are in extremely caring and competent hands visiting Dr. Abbott at Marque Urgent Care.