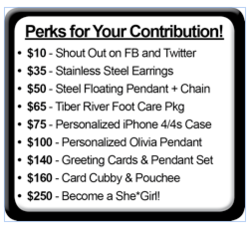 Winnipeg, Manitoba, Canada (PRWEB) October 18, 2012
You can't get much smaller than working from your garage, and this home-party business model is bursting at the seams. The next step for Total SHE Inc. is a $35,000 project to upgrade their web technology. This essential upgrade will allow greater online capabilities for Total SHE's Sales Consultants and customers. Enter crowdfunding; a unique way for savvy entrepreneurs to finance their expansion plans. Total SHE has posted a humorous video on Indiegogo.com to provide a glimpse into their daily operations.
Kristen Goodman, President & SHE.E.O. of Total SHE Inc. appeals to mompreneurs, businesspeople, and other viewers who she believes will understand and support her dream.
By visiting the company's current website, potential customers can view more than 2,000 Total SHE products. However, a user will also quickly see the company's need for a major online overhaul. It really is quite simple: if 1,000 people donated just $35 each by the November 12, 2012 deadline, the $35,000 crowdfunding goal will be achieved.
"Giver's Gain," says Total SHE! "Based on your level of donation… as a thank you for your contribution, you will receive one of these amazing perks."
Total SHE believes in "making it personal". Their 72-page catalog showcases over fifty exclusive products that can be personalized with unique names, corporate logos, or anything you can dream up. Finally, you can give the gift of a special, personalized keepsake to anyone, for any occasion. Your personalized merchandise choices include: pendants, iPhone cases, travel mugs, photo frames, security cases, passport wallets, and many more. Total SHE's products are available for shipment worldwide. Their lead-time in North America is approximately 2 to 3 weeks to arrive at your home or business.
For more information on this appeal, please call Kristen Goodman at 204-832-8220 or 204-296-5134, email totalshe@gmail.com
Website: http://www.TotalShe.com
Appeal Video: http://www.indiegogo.com/totalshegarage