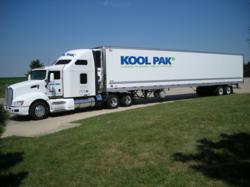 With storage for 1,000 pallets of frozen, chilled and dry product, Polar Express offers vendor consolidation, container loading, port delivery, unloading/ breakdown, load reconfig, repalletizing, repackaging, cross docking, short hold, carrier drop off.
Portland, Oregon (PRWEB) October 23, 2012
Polar Express Transportation's newly expanded temperature-controlled facility opens October 29th in Langley, BC, offering additional warehousing and regularly scheduled delivery services into and throughout Canada as well as the US. Due to exponential growth in their transportation services since joining up with KOOL PAK° in January, 2012, Polar Express' facility expansion now offers nearly 300,000 cubic feet of frozen, chilled and dry product warehousing.
Working together, KOOL PAK° and Polar Express provide an extensive array of worry-free services for transportation, storage and delivery of temperature-controlled LTL shipments throughout Canada and the US. Their combined transportation and warehousing services ensure that temperature-sensitive products are maintained at their proper temperature through the cold chain, from pickup, to storage and delivery at destination.
The Canadian state-of-the-art transportation management systems and services include new model tractors with dual-temp, refrigerated trailers, extensive regularly scheduled deliveries, customized logistics solutions, and dedicated customer service teams to ensure product safety.
With storage capacity of up to 1,000 pallets for frozen, chilled and dry product, Polar Express offers vendor consolidation, container loading and port delivery, unloading and breakdown, load reconfiguration, repalletizing and repackaging, cross docking, short hold and carrier drop off.
In addition to Langley, BC, KOOL PAK° has temperature-controlled facilities in Washington, Oregon and southern California for complete west coast coverage. "We also recently expanded our worry-free transcontinental LTL services out of Ontario, California to include Texas, Georgia, Florida, Ohio, Illinois, Indiana, Wisconsin, Pennsylvania, New Jersey and New York in addition to our coverage of the seven western states and Canada", adds Steve Ness, CEO and President.
Polar Express contacts for transportation services are Jamie Plowman at 604-888-3729, jamie(at)polarexpresstrans(dot)com and Rick Tremblay for logistics and warehousing services, rick(at)polarexpresstrans(dot)com.
Polar Express Transportation is located at #4 10097 201 St., Langley, BC V1M 3G4, Canada.
Established in 1968, KOOL PAK°, LLC is a leading provider of worry-free, temperature-controlled LTL shipping based out of Oregon. They purchased Polar Express Transportation in Langley BC in January 2012 to extend services throughout Canada. In addition to world-class transportation services, four strategically located refrigerated facilities offer warehousing and logistics at the Langley, BC facility and in Oregon, California, and Washington. KOOL PAK° delivers superior service by being a proactive and flexible extension of its customers' business.