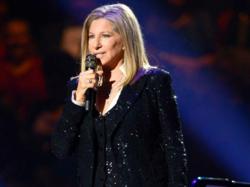 Denver, CO (PRWEB) October 18, 2012
It's that voice. It's like `butta', able to melt and mesmerize audiences of all ages. Last week, Barbra Streisand showed she's still got it after over five decades of number one hits.
The second you hear her sing, you know why she's the best-selling artist of all time. Dressed in her trademark Donna Karan outfits, she belted out two blissfully beautiful shows in Brooklyn last week. It was all part of her "return to Brooklyn" at the big new Barclay's Center. By now, you may have seen the glowing reviews regarding her glorious performance.
The star's tour includes a stop in Montreal last night, then Ottawa next Saturday October 20th, Toronto on Tuesday October 23rd, Chicago on Friday October 26th, and Vancouver on Monday October 29th. Streisand returns to the U.S. on November 2nd for a show in Las Vegas. Then it's on to San Jose for a performance on November 5th, and L.A. for two concerts on November 9th and 11th.
"It's no shocker that Barbra Streisand's shows are either officially sold out or almost sold out," said Felina Martinez at online ticket marketplace BuyAnySeat.com. "Few fans are as faithful as Streisand's; and she has rewarded audiences by taking absolutely stellar care of her trademark singing voice. That's why we're proud to be able to offer fans a complete selection of cheap Barbra Streisand concert tickets, with a worry-free guarantee to protect their purchase," said Martinez.
"In fact, we have a fabulous selection of discount Barbra Streisand tickets, now available at exclusive price reductions on our site," said Martinez. "Fans can save as much as $150 at checkout."
"To access the exclusive savings on the cheap Barbra Streisand tickets we now have available, customers can go to BuyAnySeat.com and search for Barbra Streisand – then select their tickets and type in "VOC2012" in the discount code box at checkout," said Martinez.
From the moment Barbra Streisand swept on stage in Brooklyn, she mystified the packed house with her smooth, soaring and mesmerizing voice. Starting with her opening number, "As If We Never Said Goodbye", to her final encore, fans were totally enraptured and enthralled. Her show included many of her hits – past and present – such as "People" and "Evergreen", and even a version of her classic Donna Summer disco hit, "Enough Is Enough".
For many fans, time stood still as Streisand looked ageless and ravishing as ever. She was relaxed, funny, quieter, softer and more introspective at times. And, in her red gown for her second act, she looked virtually identical to herself in her famous Central Park appearance back in 1967, minus the beehive hairdo of course.
The singer also received fantastic support from sexy trumpet master Chris Botti, sexy Italian trio Il Volo and (no kidding) her sexy and gifted son, Jason Gould. That's right, he sings too and quite well in fact. Their duet, "How Deep is the Ocean", simply wowed the audience. As one critic put it: "She's been one for the ages since 1964. In 2012, it might finally have sunk in."
In terms of her latest ticket prices, insiders say Streisand's drawing power is exceptional. "Streisand isn't an artist that goes on the road all the time," says Ray Waddell, senior editor of touring at Billboard magazine. "In fact, seeing her perform live is a very, very rare thing. I can't think of another artist that could sell tickets at a price like this -- maybe if Elvis came back from the dead."
But while tickets to see Barbra Streisand sing are now the highest priced tickets ever, it should also be noted that that proceeds from her tour will go to charities supported by the Streisand Foundation. Streisand has personally raised over $25 million for organizations through her live performances. In addition, the Streisand Foundation, established in 1986, has contributed over $16 million through nearly 1,000 grants to national organizations working on preservation of the environment, voter education, the protection of civil liberties and civil rights, women's issues and nuclear disarmament.
To shop for discount Barbra Streisand tickets, visit BuyAnySeat.com.
About BuyAnySeat.com: An online ticket marketplace, BuyAnySeat.com connects sports, theater and other live entertainment fans to an extensive worldwide network of ticket sellers. The site's simplified listings and navigational tools enable fans to easily locate, compare and purchase inexpensive, discounted or lower-priced tickets to virtually all advertised sports and entertainment events around the globe. The site, which is PCI-compliant and Norton Secured, also provides customers with a complete Worry-Free Guarantee on all ticket purchases. Based in Denver, Colorado, BuyAnySeat.com is a subsidiary of Denver Media Holdings. For more information, please visit http://buyanyseat.com.