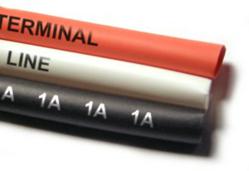 "Our offices are being moved a couple times a year and it always took hours of time out of the business workday to disconnect wires and reconnect but now that we have identified our cables and wires, the process has gone much smoother and quicker."
Lake Oswego, OR (PRWEB) October 22, 2012
A busy office with a multitude of computers, printers, faxes, computer towers, etc is consumed with many cables and wires that get crossed mixed and is very difficult to identify which cable or wire goes to what machine. Labeltac.com is now offering a new product that is a printable shrink tube that can be printed from either the LabelTac 4 or LabelTac 4 PRO thermal printers. The Labeltac Printable Shrink Tube is a great tool for identifying cables and wires. The wire or cable slips through the tube that has been marked with text that will identify what the cable or wire is for. Keeping wires and cables organized will cut down the time spent on either hooking up or unhooking office machinery as the user will know exactly which cable or wire they are working with. Many times office areas are moved to other locations and by identifying office machinery wires and cables will prevent mistakes of reinstalling the machines. Employee work production will not be hindered by possible delays in hooking up machines.
The Printable Shrink Tube will also organize cables and wires in and around the work area so they don't become a mess of tangled up wires. Safety becomes a threat to a workplace that has numerous wires and cables that employees or visitors may trip over but the tubes will keep wires and cables from getting in the way and are marked with large enough text so they are visually present. The tubes are highly resistant to either cold or hot environments, operating under temperatures of -65F to +275 F. An office manager commented, "Our offices are being moved a couple times a year and it always took hours of time out of the business workday to disconnect wires and reconnect but now that we have identified our cables and wires, the process has gone much smoother and quicker."
Please visit http://www.labeltac.com/labeltac-4/ or call toll-free (866)777-1360 to learn more about Labeltac Printable Shrink Tubes or any of the other Labeltac supplies from printers to labels to printer supplies.