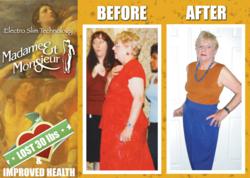 This treatment will make your body more efficient by detoxifying the stress hormone cortisol out of system which will help reduce fat around your middle, faster than any other diet, and safer than surgery.
Bethesda, Maryland (PRWEB) October 18, 2012
A revolutionary beauty treatment, ElectroSlim by Madame et Monsieur, that spot reduces fat around the waist, thighs, arms or buttocks, is now available in Bethesda, Maryland and has been around for 30 years in South Africa and Australia, ten years on the West Coast, in Beverly Hills, California and Las Vegas, Nevada.
Thousands of men and women use ElectroSlim as an alternative to the gym, often conquering fatigue, low energy, detoxification, cellulite and weight gain with neuromuscular stimulation in 60 or 90 minute treatments 2-4 times per week.
Each treatment is $65 for an hour and $99 for 90 minutes.
Since April 2012, ElectroSlim in Bethesda has seen over 280 patients and has helped clients regain their energy, stamina and self-esteem.
The treatment consists of three 20 minute sessions: circulation, detoxification and rehabilitation, within one 60 minute period. Circulation moves the blood and lymph throughout the body promoting the oxygenation of the blood. Detoxification detoxes the body of the stress hormone cortisol, among others, and more importantly, pushes the fat out of the cell. Once the fat is released, the lymphatic system filters the fat out of the blood and deposits it into the colon. The rehabilitation session re-educates and tones the muscle fibers by manipulating the muscle through the neuromuscular waveform.
After 10 treatments the body becomes more efficient. Clients see an increase in energy during the day and enhanced sleep throughout the night. More importantly, clients lose 10-35 inches all over their bodies by 10 treatments. Many return to the exercise. After 30 treatments, physicality is markedly improved and results last for months.
Electroslim recommends mainly a nutrition plan based on commonsense. ElectroSlim does not sell diets or food; treatments do not work in tandem with any other products such as pills or lotions. ElectroSlim recommends drinking 12 or more glasses of water per day. Clients do not need to prepare prior to the treatment, and all treatments are painless, non-invasive and safe.