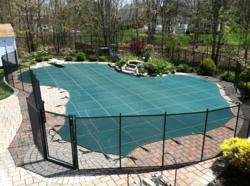 "We are very pleased and excited with the new design of our website," said Mike Corkery, President of Pool Guard. "We feel the site does a good job displaying our complete products line up and our corporate vision of making pools safe for kids."
Clearwater, FL (PRWEB) October 18, 2012
Pool Guard Manufacturing Inc., located in Clearwater, Florida, has recently completed a new redesign of their website. The site's new look is intended to better align Pool Guard's branding and image to match their mission of being the leading provider of pool safety products to their customers.
Pool Guard was started as a pool fence company and has evolved since 2007 when new owners took the helm and built the company into a comprehensive pool safety products manufacturer that provides single source solutions for the swimming pool industry when it comes to pool barriers or pool safety to prevent accidental drowning's.
Some new features include a zip code search of Pool Guard dealers and expanded information on Safety Covers.
"We are very pleased and excited with the new design of our website," said Mike Corkery, President of Pool Guard. "We feel the site does a good job displaying our complete products line up and our corporate vision of making pools safe for kids.
About Pool Guard Manufacturing:
Based in Clearwater, Florida, Pool Guard Manufacturing is the worldwide leader in pool safety fences, pool nets, and pool covers since 1997. The manufacturing company supports a worldwide dealer network trained specifically in the skills needed for safe and secure pool barrier installations. Pool Guard can be contacted at (888)876-4005 or by visiting their web site at http://www.poolguardusa.com