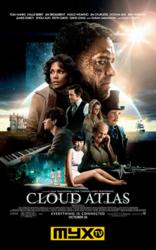 Redwood City, Calif. (PRWEB) October 18, 2012
Asian American entertainment network Myx TV proudly partners with Warner Bros for the upcoming blockbuster "Cloud Atlas," featuring Academy Award winners Tom Hanks (Philadelphia, Forrest Gump) and Halle Berry (Monster's Ball). Follow Myx TV on Facebook (facebook.com/myx tv) and Twitter (@myxtv) and join in the ticket giveaway contest where winners will get two tickets each to the exclusive sneak preview in New York City, plus a chance to win the new Samsung Galaxy Note tablet. The contest continues until October 20th, in time for the premiere on October 23rd at AMC Loews Village 7 in New York City.
From acclaimed filmmakers Lana Wachowski, Tom Tykwer, and Andy Wachowski, the epic drama "Cloud Atlas" explores how actions and consequences of individual lives impact one another throughout time. The film also marks the English film debuts of Asian actresses Doona Bae and Xun Zhou who join a stellar international cast that includes Jim Broadbent, Hugo Weaving, Jim Sturgess, Ben Whishaw, James D'Arcy, Keith David, and David Gyasi with Oscar winner Susan Sarandon (Dead Man Walking) and Hugh Grant.
Visit http://www.myx.tv for more details on the contest and join the network for the nationwide premiere of "Cloud Atlas" that hits movie theatres on October 26.
Myx TV launched on Time Warner Cable Channel 541 in the New York City and New Jersey service areas this summer. The network is available at no additional cost as part of Time Warner Cable's Digital TV package and can be seen in four New York City boroughs (Manhattan, Queens, Staten Island and western Brooklyn), Mt. Vernon, as well as Bergen and Hudson Counties in New Jersey.
##
ABOUT Myx TV®:
Myx TV is the premier Asian American entertainment and lifestyle cable network in the United States. Dedicated to airing the best in entertainment, Myx TV's programming is a unique combination of original and syndicated shows, including magazine talk shows, interactive music video countdowns, independent film and Asian cinema, and animation, airing 24/7 in English. Broadcast in over 10 million households across the country it provides a platform for Asian Americans on mainstream television and is also represented on its official website by a community of bloggers from coast-to-coast. To find Myx TV in your area and for exclusive content online, visit http://www.myx.tv.