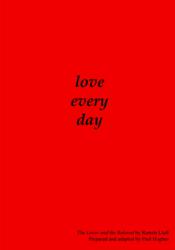 The journey deeper into the topic of love.
Orange County, CA (PRWEB) October 18, 2012
Rioting in Africa, strife in Iran… malarkey from the vice campaign trail… if all we need is love, where can we find, and keep, love… Every Day?

… is it where Seattle Seahawks cornerback Richard Sherman taunts New England quarterback Tom Brady?
… maybe it's with Shannon Moroney, author of The Stranger Inside: The True Story of the Woman Who Married a Sex Offender?
… or perhaps it was with Tom Jones, the whole time… "Love is in the air, love is everywhere … "
A new book by Paul Hughes, love every day, may hold part of an answer to this question. It's all about love, and as the title says, it can be had… every day.
The book is based on centuries old wisdom — five centuries to be exact — and the hard work of faith. The Spanish writer Ramón Llull, some 500 years ago, set down his vision of the journey of love. Now for the 21st century, the American writer Paul Hughes has reworked Llull's words to make it available again, today. And by setting it in the first person, the book also helps people connect more directly to the goal: love.
The basic idea of the original book — one person's journey through the hardships of love for God and others — is the same. Single thoughts are short — suitable for a quick read at any time of day — but packing a powerful punch — and you might dwell on it for days.
The 365 entries make it a great daily devotional through one year. And the best part is, it is available on Amazon's Kindle platform for free at http://www.amazon.com/Love-Every-Day-ebook/dp/B009IBQURY/