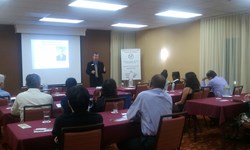 I am very delighted to have participated in your seminar. The information you presented is very helpful and has inspired me to become more serious in getting started with real estate investments.
Yorba Linda, CA (PRWEB) October 18, 2012
Sense Financial will be holding a free seminar that will discuss the opportunities for generating passive income through note investing. The Seminar, valued at $59, will be held in the upstairs meeting room of the company's corporate office from 7:00 PM to 9:30 PM (PDT). Those wishing to attend are encouraged to register and reserve their spot today. Seating is limited.
http://sensefinancial2.eventbrite.com/
The seminar will discuss how a Self-Directed Checkbook IRA or Solo 401K can generate passive income through real estate investments. Attendees will learn how to avoid the common pitfalls that go along with being a landlord and see how to create attractive returns without the risk of the stock market.
Scheduled to speak at the seminar is Anthony Martinez, President of Asset Ventures Company and Dmitriy Fomichenko, President of Sense Financial. Asset Ventures negotiates real estate notes after identifying undervalued properties and helps create value for investors from real estate that is selling at distressed prices. Sense Financial helps its clients take control of their retirement accounts by establishing Solo 401K and Checkbook IRA accounts.
The seminar is a perfect opportunity to learn more about what is a Solo 401k, the benefits of using retirement funds to invest in non-traditional assets such as notes and real estate, Solo 401k contribution limits, compare SEP vs Solo 401k, learn how to select the best Solo 401k provider, Solo 401 k eligibility and other Solo 401k rules. Attendees will learn why diversification and a steady earnings stream make investing in notes something to strongly consider as an option to invest in and outside of a retirement account.
The event coordinators expect a large turnout on Tuesday for the free Sense Financial Seminar. The two and one half- hour session will be an interesting and informative look into the world of investing in real estate notes in retirement accounts. For further information, please contact:
Contact:
Dmitriy Fomichenko, President
Sense Financial Servcies LLC
22600 Savi Ranch Parkway
Yorba Linda, CA 92887
Email: info(at)sensefinancial(dot)com
Web: http://www.SenseFinancial.com
Phone: (949) 228-9393