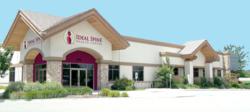 Eagle, ID (PRWEB) October 18, 2012
Ideal Spine Health Center is officially opening its doors by hosting a grand opening celebration for thousands of Eagle and Boise residents on Saturday October 20th.
The day-long celebration starts at 9:00am, and includes a wide range of informative and complimentary chiropractic, wellness, and fitness classes and workshops. Attendees will also receive digital posture assessments, body composition analyses, and health consultations – all free of charge.
MMA superstar Clay Guida who will also be on hand to meet fans and sign autographs.
In addition, Ideal Spine Health Center will be giving away over $30,000 worth of services to the first 100 people who attend this event, helping them kick-start their journey to a better health.
For the office location and contact information, please visit http://www.idealspinehealth.com, or call 208-939-2502.