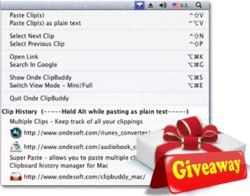 Copy&Paste Manager on Mac
(PRWEB) October 19, 2012
Ondesoft users have another reason to get excited for fall. Today Ondesoft announced their Huge Fall Giveaway, a chance for users to download the latest version of ClipBuddy for free. Called the "ultimate clipboard extender" by reviewers and users alike, ClipBuddy is one of Ondesoft's most popular Mac Apps. ClipBuddy allows users to cut and copy any number of text or images as many times as they like, without ever losing the user's old clippings. Giveaway:http://www.ondesoft.com/giveaway.html
ClipBuddy records everything the user cuts or copies to their Mac Clipboard and then offers a variety of simple ways to view, edit, and paste their clippings to any app. The clips can be composed of anything, including text, images, and even rich text from PDFs and HTML. And there's no limit to the number of clips a user can save, ClipBuddy stores an infinite number of user clippings in a brilliantly simple and easy to use, searchable database.
Ondesoft CEO, Sean Lee, spoke about the Huge Fall Giveaway recently, saying, "We wanted new users to see for themselves just how easy it was to use Ondesoft products." He continued, "So, we decided to choose ClipBuddy because it was the app that users consistently praise for its simplicity and utility."
Ondesoft's Huge Fall Giveaway runs from October 17th until October 31st, and is available to all users, both new and old. Interested users can head over to http://www.ondesoft.com/giveaway.html to sign up for the Ondesoft Club and receive their free download of ClipBuddy for Mac today.
Also, You can download Ondesoft new Mac App-W3capture Which converts HTML to image formats of other file types, including:.PNG, .JPEG, .BMP, and .SVG. Also included in the Ondesoft W3Capture is a multi-threaded batch converter.This allows the user to convert multiple HTML webpages from different URLS in to one single PDF file. Simply to say Ondesoft W3Capture can convert HTML to PDF.
Ondesoft is a company composed of Mac users creating Mac apps for the good of the Mac Community. Since 2004, Ondesoft has continually been producing quality applications for Mac OS and is currently working on increasing their scope to include iOS, as well. Stay tuned for developments and be sure to visit the site at http://www.ondesoft.com.