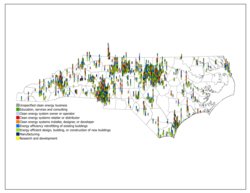 "North Carolina is, as far as the rest of the country goes, a leader or progressive state from the standpoint of producing green and Energy Star homes,"
Raleigh, NC (PRWEB) October 19, 2012
A new statewide survey of over 1,100 North Carolina clean energy companies finds that the clean energy sector is a growing economic force in North Carolina contributing over $3.7 billion in revenue and more than 15,200 full-time equivalent (FTE) jobs directly from activities in clean energy. For infrastructure, the state is home to over 38,000 Energy Star homes, 2,100 energy efficient commercial buildings, and more than 3,000 planned or installed renewable energy systems. Yet despite the clean energy industry's recent growth in North Carolina, including more than 200 companies serving national and international markets, business leaders feel that the industry in North Carolina is at a crossroad. Political polarization, policy and market uncertainty and limited access to finance all pose substantial threats to the continued growth of North Carolina's clean energy economy. These and other important economic findings are detailed in the 2012 North Carolina Clean Energy Industries Census released October 11 by the North Carolina Sustainable Energy Association (NCSEA). Link to the full 2012 North Carolina Clean Energy Industries Report.
"Despite our state's on-going high unemployment rate and tough economic times, North Carolina's clean energy industry continues to grow and add new jobs and investments in every region," said Ivan Urlaub, NCSEA's Executive Director. "North Carolina is distinctly positioned as a clean energy leader in the Southeast, but maintaining this leadership role – and becoming a national and global leader – will require additional policy and market advancements; otherwise, we'll be left behind as other US states step up and compete for the lead."
The North Carolina Clean Energy Industries Census, now in its 5th year, looks at businesses directly involved in renewable energy, energy efficiency, high performance building, smart grid and electric vehicle activities, but does not include the nuclear or fossil-based combined heat and power sectors. Over the years the census has evolved with North Carolina's clean energy industry to include new sectors like North Carolina's internationally recognized smart grid industry and the rapidly expanding alternative fuel vehicles industry.
Jobs with a focus on energy efficiency, frequently described as the least-cost resource by groups like the American Council for an Energy Efficient Economy, comprise the majority of North Carolina's clean energy sector employment at over 7,200 full time equivalent positions statewide. In addition to successful utility energy efficiency programs like Duke Energy's Save-A-Watt initiative, North Carolina energy efficient homebuilders are successfully building the next generation of energy efficient homes using local labor and businesses. "North Carolina is, as far as the rest of the country goes, a leader or progressive state from the standpoint of producing green and Energy Star homes," said one responding homebuilder in this year's Census. "There's a lot of acknowledgement of that in the national professional association for home builders." Complementing the strong energy efficiency sector are the solar, smart grid and biomass sectors contributing over 1,000 full-time equivalent jobs each, with additional major employment from the wind, geothermal, and energy storage sectors.
North Carolina's nationally recognized pro-business climate helped ensure that the research and development (R&D) and manufacturing businesses were once again substantial job creators for the clean energy industry in North Carolina with a contributed 7,700 full time equivalent jobs. Recognition includes several top three rankings by Chief Executive (2012), Site Selection and Forbes magazines (2011) as "best state for business," a number two ranking for "most cost-efficient for manufacturing" (2011) by the American Institute for Economic Research, and the top state in America for "lowest state and local tax burden on business" in 2012 by the international accounting firm Ernst & Young.
Despite North Carolina's success in becoming a leading clean energy state in the Southeast, many companies expressed concern that the industry is at a crossroads. Political polarization of clean energy has grown at an alarming rate. Some state and local candidates are using national party-line narratives to try to increase electoral support at the expense of accurately representing clean energy's positive economic impact in North Carolina. The 2012 merger of Duke Energy and Progress Energy adds additional market, programmatic and electric rate uncertainty that businesses must integrate into their business models.
Finally, like most American businesses, many clean energy companies, especially the smaller ones that make-up the bulk of the industry, face difficulty accessing finance. For some businesses, in particular clean energy system installers, legal barriers inhibit traditional market mechanisms such as bilateral contracts for the direct sale of electricity to a consumer. Recent legislative attempts to approve new "market-based" clean energy policies that create additional market competition and provide consumers more choices have been unsuccessful thus far in North Carolina, yet they continue to be discussed. In the current highly regulated electricity market of North Carolina, companies verify that clean energy policies and regulations will remain essential to ensure there is limited competition allowed so clean energy companies have the opportunity for additional growth in the coming years.
About the NC Sustainable Energy Association:
Founded in 1978, the NC Sustainable Energy Association is a 501(c)3 nonprofit membership organization of individuals, businesses, government and nonprofits working together to promote and expand renewable energy, energy efficiency, high performance building, smart grid and electric vehicles. Active statewide, NCSEA is the only nonprofit in NC devoted to leading public policy change and driving market development in ways that will create clean energy jobs, business opportunities and affordable energy. Learn more at http://www.energync.org