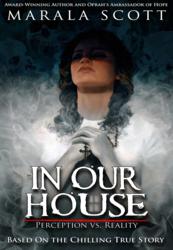 "We are so honored to bring the powerful true story of Marala Scott's incredible journey from an abusive and terrifying childhood to one of faith, strength, forgiveness, and her resolution to help others," said Thomas Ellsworth, CEO and Chairman
Los Angeles, CA (PRWEB) October 18, 2012
Premier Digital Publishing announced the availability of the highly anticipated book, In Our House: Perception vs. Reality, by acclaimed author Marala Scott. Ms. Scott shares her powerful true story of surviving the hidden reality of an unimaginable and terrifying childhood behind the outward perception of a successful and picture perfect family. Ms. Scott's focus in sharing her story is to teach others to identify and overcome abuse in their own lives, show them how to forgive and heal in order to move on in their life in a positive and healthy manner, and to inspire others in an effort to keep them from meeting that same fate. Ms. Scott speaks from the heart with her life-changing words of faith and strength. Her efforts caught the attention of Oprah Winfrey who honored her as one of her five Ambassadors of Hope in 2009 and stated "A childhood of abuse almost kept Marala Scott from a life of happiness…until she discovered how to use her story to help others." Ms. Scott is also a recipient of a Congressional award for her humanitarian efforts.
"My childhood was plagued with unimaginable horrors that anyone would deem as unforgivable acts. The potency of evil in our house was certain to destroy me had I not fought with everything I didn't know I had! When I didn't think it could get worse, I then had to survive the supernatural!" said Ms. Scott. "Years of pain brought me to the realization that, forgiveness is powerful and hate is too, but one heals and the other destroys. I had to make the choice."
"We are so honored to bring the powerful true story of Marala Scott's incredible journey from an abusive and terrifying childhood to one of faith, strength, forgiveness, and her resolution to help others," said Thomas Ellsworth, CEO and Chairman, of Premier Digital Publishing. "Marala is a beacon of light and inspiration in sharing her story to help people move towards forgiveness and begin living their own lives."
In this chilling true story readers will meet Colin, a handsome, successful man, recruited by IBM and the CIA, his beautiful wife, Alley, and their six children. Despite the veneer of their perfect world, an illusion and merely perception, Colin is an abusive man, who tortures his wife and his children. Alley is lost, helpless, and falls prey to the occult, turning her life over to evil, and the children must fight to escape the abusive wrath of their father and the demonic possession of their mother.
As Ms. Scott tells her story, ripping away the veil of perception to expose an ugly reality, readers will be shocked and horrified; and ultimately be made a believer and inspired by her very survival as evidenced by the responses of her many readers, including actor and recording artist, Tyrese Gibson, who stated "Wow! This book changed my perspectives on everything! It changed my life forever! The book is amazing. When Marala opens her mouth to tell you about her childhood and all of the things that she's been through in her life, after reading this book, it will make you say, 'Well if I thought I was going through some stuff, I haven't been through anything!'"
This book was written to expose the reality of what often goes on behind closed doors. Ms. Scott's journey brings to the forefront of our consciousness what needs to stop, what needs to change, and the incredible power of faith and forgiveness.
In Our House: Perception vs. Reality is available in print and as an e-book via all major online retailers today at: http://www.premierdigitalpublishing.com/Titles/authors/marala-scott/
About the Author:
Oprah's Ambassador of Hope and multi award-winning author, Marala Scott, had a life plagued with unfathomable secrets that took place behind closed doors that threatened to follow her throughout her lifetime. Marala had to learn how to keep from remaining a victim and accept freedom through letting go of the pain through the power of forgiveness.
Marala Scott Awards:
Oprah's Ambassador of Hope
20 Outstanding Women You Should Know
2009 National Indie Excellence Award Winner
2009 Premier Book Awards 2nd Place
International Book Awards Finalist
Indie Excellence Book Awards Finalist
Special Congressional Recognition of outstanding and invaluable service to the community
United States Senate, Sherrod Brown, In recognition of advocacy to prevent child abuse and domestic violence
Ohio House of Representatives special recognition for humanitarian concern
Websites: http://www.maralascott.com
http://www.inourhousebook.com
Twitter: https://twitter.com/MaralaScott
Facebook: https://www.facebook.com/#!/marala.scott
Blog: http://www.maralascottsblog.com
About Premier Digital Publishing:
Premier Digital Publishing is a leading independent digital publisher and innovator of eBooks, enhanced eBooks, print-on-demand books and interactive content. Led by a team of digital media pioneers, the company ranks among the top publishers of quality eBook entertainment to the industry's leading tablet and eReader manufacturers and eBook retailers. The company is based in Los Angeles with offices in Toronto and New York.
Web: http://www.premierdigitalpublishing.com/
Like: http://www.facebook.com/premier.digital.publishing
Follow: http://www.twitter.com/PDigitalPub