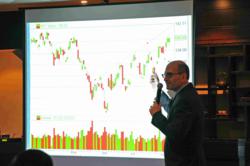 (PRWEB) October 20, 2012
For the third year running, Phillip CFD celebrated the Mid-Autumn Festival with our top clients on 23 August 2012 to show our appreciation. What made this year's Privileged Clients' Night special was that it was the eve of PhillipCapital's inaugural Investment Festival (iFest for short) and our clients were treated to an up close and personal live trading session with our guest speaker, Mike Bellafiore of SMB Capital.
The chinois theme was set as guests were greeted by the sounds of traditional Chinese instruments playing familiar modern classics in the courtyard of Ju Chun Yuan Restaurant, which is located in a 170 year old shop house in Far East Square. The soothing music allowed our guests to relax and network with each other while mingling with Bellafiore. Following the networking session was an 8-course Fuzhou dinner accompanied with red wine that was kindly sponsored by Profiters International, a wine investment firm specialising in French wines.
The excitement was palpable as guests made their way to the presentation area after dinner. Everyone was eager to learn from the expert and gain some insights on how to improve their trading through this 'secret trading session'. Bellafiore started off by telling the audience that although they're in Singapore, it is possible to trade the US markets and not have to sacrifice their sleep. This can be done by having proper set ups and looking at longer time frames rather than use strategies that are more suited to intraday trading. Trading the US market is advantageous to the Asian investor because there are a lot more stocks to choose from and the volume is there. In addition, Phillip CFD's latest promotion where one lucky winner gets a free air ticket to New York City and a half day tour of SMB Capital is another topping on the cake. Having said that, Bellafiore stressed that to be a successful trader, one has to build one's trading skills by being disciplined and keeping a 'Playbook' of one's trades.
What is a Playbook? Used normally in American Football, it is a notebook containing descriptions and diagrams of several possible set tactics of a team. In the trading context, Bellafiore strongly believes that one needs to create a personal trading 'playbook' in order to review one's trades and therefore understand one's trading strengths, mistakes and therefore improve.
When the markets opened in the US, the screens were switched to show one of the six trading screens of GMan, who is a partner at SMB Capital. Bellafiore joked that GMan can be called a portfolio manager as he had 16 open positions at that moment. The audience was glued to the screens as they observed how GMan switched windows of the various stocks to look at their prices and order flow through the 'tape' (level 2 market depth). An interesting discussion on GMan's trading decisions and the US markets in general soon started between the audience and Bellafiore. It seemed as if our guests didn't want to leave as the questions kept flowing past 10.30pm but alas, all good things have to come to an end and we ended the evening with a lucky draw where the winner won a bottle of French wine, which was also kindly sponsored by Profiters International.
Each guest was presented with a box of mooncakes as they left, signifying Phillip CFD's gratitude for their continued support and our good wishes for the year ahead.