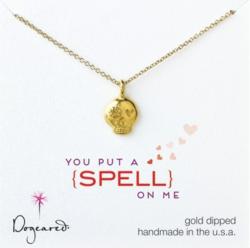 "With this collection, we wanted to celebrate the fun, upbeat, light-hearted side of love," commented Marcia Maizel-Clarke, Dogeared founder and designer. "At Dogeared, we believe that love matters 365 days a year!"
Los Angeles, CA (PRWEB) October 18, 2012
Dogeared Jewels & Gifts, a trendsetting fashion brand known for its cool California aesthetic and innovative designs, is proud to present the new LOVE Collection, just in time for Valentine's Day.
The LOVE Collection features 21 styles of charm necklaces, each paired with the perfect message: short, sweet, and straight from the heart. Each necklace is presented in a custom 2.5" x 2.5" box and is ready to give. Prices range from $50 to $70.
"With this collection, we wanted to celebrate the fun, upbeat, light-hearted side of love," commented Marcia Maizel-Clarke, Dogeared founder and designer. "At Dogeared, we believe that love matters 365 days a year!"
The 21 new concept necklaces include:

You Put a Spell on Me with a flower-eyed skull charm
You Make My Heart Smile with a camera charm
I Love You to the Moon and Back with a moon charm
Soulmates-We Belong Together with a lock and a key charm
Dogeared Jewels & Gifts offers hundreds of gifts for special occasions. All are designed by Dogeared and are made to order in their LA studio.
"Handcrafted and 'Made in the USA' has been the heart and soul of who we are and what we do for over 20 years," explained Maizel-Clarke." By carefully handcrafting every piece in an eco-friendly way, each Dogeared jewel has a story to tell... and being handmade with love is at the core of all of them."
Dogeared, a Certified B Corporation, is committed to decreasing its environmental footprint. All sterling charms are handcast in recycled silver, and catalogs, cards, and packaging are printed on mixed sources. The company works with domestic suppliers and casters who share their environmental commitment, and all the jewelry and gifts are handmade in Dogeared's Southern California studios.
Dogeared Jewels & Gifts
Designer Marcia Maizel-Clarke founded Dogeared Jewels & Gifts over 20 years ago in Southern California. Originating word jewelry, she began creating beautiful pieces with the purpose of putting positive, peaceful, and loving energy into the world. This energy has always included being kind to the planet, handcrafting all the jewels and gifts in California, and working with non-profit organizations sharing a vision of a better world. Dogeared's unique, custom-cast jewels are regularly featured in fashion, lifestyle, and celebrity publications, in films and on television shows. Trendsetting retailers around the world, including Nordstrom, Neiman Marcus, Bloomingdale's, Fred Segal, and ABC Home, all carry Dogeared. Dogeared is a certified B Corporation. Please visit http://www.dogeared.com for Dogeared's online flagship store. For wholesale information, visit http://www.dogearedwholesale.com.