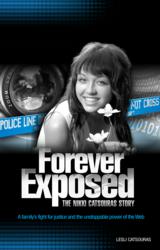 I hope this book will send a message to anyone who has taunted or bullied someone online, or is thinking about it. (When you do that) you don't just harm one person ... you can destroy an entire family.
(PRWEB) October 31, 2012
Orange County, CA-Local Ladera Ranch woman announces the release of her just published memoir "Forever Exposed: The Nikki Catsouras Story"
'Forever Exposed' is about much more than the horrific aftermath brought about from the death of her daughter Nikki Catsouras. Lesli Catsouras not only weighs the significance of freedom of speech in America against the complicated issues of Cyber bullying and trolling, but also delves into the reality of how one ordinary family coped with such unimaginable circumstances.
Since 2006 the Catsouras story has been an ongoing subject of widespread public interest making headlines across the nation. Their story has been featured on The Dr. Phil Show, 20/20, CBS Evening News with Katie Couric, NBC Nightly News with Brian Williams, ABC news, Fox news, CNN Headline News, Issues with Jane Velez-Mitchell, Newsroom with Megan Kelly and more, including top news stories from local and international news papers, magazines, including (Newsweek and Forbes) radio and television broadcasts.
Background News Story
Nikki was killed on the afternoon of Oct. 31, 2006, on the 241 toll road. She'd taken off in her father's Porsche and, while driving as fast as 100 mph, she clipped another car and lost control.
The Porsche flew across the dirt median and into oncoming lanes before slamming into an unmanned tollbooth in Lake Forest, killing Nikki instantly. Still strapped into the driver's seat, she nearly was decapitated.
That was the start of the family's horror.
In the next few weeks, as the Catsouras family was trying to cope with Nikki's death, photos of Nikki's remains began circulating online. Some of the graphic images – leaked by people who worked for the California Highway Patrol – were accompanied by messages that disparaged the dead teenager and her family.
For Lesli and Christos Catsouras, the photos and rumors were an ugly sideshow that distracted attention from what they see as the real egregious act: the CHP improperly releasing accident-scene photos.
Roughly half of 'Forever Exposed,' which at about 88,000 words is a standard-length work of nonfiction, details the Catsouras' battle with the CHP and Internet trolls.
'Forever Exposed' is structured in alternating chapters in both Lesli's voice and the voice of her husband, though Lesli wrote everything.
After a brief prologue, the book starts with the day Nikki fled in the Porsche, and more or less proceeds chronologically, with Catsouras filling in details of Nikki's life, including her brush with death when doctors found a largely inoperable brain tumor when she was 8.
Profile:
Lesli Catsouras was born and raised in Orange County, California. She is the wife of Christos Catsouras and the mother of Nikki Catsouras and her three surviving daughters Danielle, Christiana and Kira.
Contact:
"Forever Exposed-The Nikki Catsouras Story" can be purchased through Lesli Catsouras' website, foreverexposed.com.