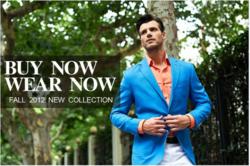 The new process will be personalized, and bring more convenience.
(PRWEB) October 19, 2012
On Oct. 18, 2012, UpUnique, a brand specialized in online fashionable custom menswear on European and American middle and high-end markets, announced its shopping process for custom menswear will be updated and released next week, along with some new products.
Leo Phang, the CEO of UpUnique, said, "As we know, the whole process of shopping for a tailor suit includes two necessary parts: one is paying for the order, and another one is measuring the body. The new process will be personalized, and bring more convenience. It is no doubt that customers can finish the whole shopping process at one time. However, sometimes, some customers have to leave after payment. In such cases, we will send an e-mail with a body-measuring link to customers, and they can make a measurement in any convenient time to finish the whole process."
As for why to update, Leo Phang explained, "In the current process, a customer can place an order and pay only after he finishes choosing a product and making body measurement. However, some customers have no time, even 15 minutes, to finish the measurement process. In such situation, they have to give up the orders without paying. This will lead directly to a failure order, and drop our turnover."
Along with the updated shopping process, http://www.upunique.com will also release some new products, mainly including some suit accessories, such as neckties, bow ties, cufflinks, cummerbunds, belts, pocket squares, etc.
The custom menswear from UpUnique, with the characteristics of high quality, unique individuality and honorable exclusive feeling, has always been popular among the men with deep love for life quality and brilliant temperament.
"We possess a lot of experienced high-end custom dress makers with around 15 years' professional experiences, which can ensure that UpUnique could customize clothes of fine handwork craftsmanship and great fitness for customers. At UpUnique, customers can customize suits, shirts, blazers and pants online in 15 minutes, and get to wear within 14 working days. We hope our clients can have better dressing experience through our products, and this is the place where our value lies. We are pretty confident about it." said Leo Phang.
About UpUnique
UpUnique, located in the oriental fashion capital Shanghai, is a brand specialized in tailored suits on the European and American middle and high-end markets. UpUnique aims to provide 100% fit commitment, 30-day unconditional refund and 80-dollar free dress alternation. On UpUnique's website, customers can get convenient dress alternation, remaking process and considerate customer services, which is to ensure 100% customer satisfaction.
To know more about custom menswear, please visit: http://www.upunique.com