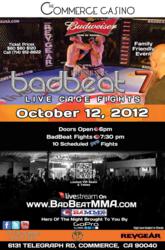 Santa Ana, CA (PRWEB) October 18, 2012
Hernandez Wins in Rare Manner
John Hernandez looked to remain undefeated against Mike 'Pale Horse' Smith in a Light Heavyweight contest. The game plan for Hernandez was to take the fight to the ground, neutralizing Smith's punching power, and he did just that, early in the first round. Once there, Hernandez used a very rare choke hold to render his opponent unconscious. The Von Flu choke is seldom seen in MMA but those watching Badbeat 7 were witness to its devastating effects.
Ware Moves His Record to 4-0
Terrion 'Flash' Ware goes the distance for a Split Decision win over Marvin 'The Mad Lion' Madariaga. Ware's boxing style complemented Madariaga's Muay Thai striking style as both fighters mixed it up early and often. Punch combinations in round one progressed to a slugfest in round three. In the end, two judges gave the edge to Ware keeping him undefeated in the Bantamweight Division.
Casarez Wins by Split Decision
Bronson Casarez and Anthony Frank engaged in a ground battle to see who would remain undefeated in the Flyweight Division. This fight could have gone either way as both fighters spent significant time in the dominant position. Both fighters attempted and escaped numerous submission attempts. In the end, two judges gave the edge to Casarez and thus moving his record to 4-0.
Gonzalez Wins by Guillotine
Adam Gonzalez applied early pressure against Tony Stewart in round one of their fight, tripping Stewart, establishing position and landing some strikes. But it wasn't until Stewart attempted to get up off the mat that Gonzalez applied a tight guillotine choke causing Stewart to tap just over a minute into the first round. Stewart suffers the first loss of his career as Gonzalez remains undefeated at 3-0.
Scolesdang Makes Quick Work of Hansen
Ron Scolesdang landed a short left hook to Mike 'Mighty Mouse' Hansen's chin just 26 seconds of round one that laid out Hansen "flat like a starfish". Some finishing strikes by Scolesdang were enough for the referee to stop the contest. Scolesdang moves his record to 2-0 in the Bantamweight Division.
Schommer Debut a Success
One fighter was going to get their first win as an MMA professional as both Nick Piecuch and Chris 'Buffalo' Schommer made their professional debuts against one another. Schommer opened with leg kicks followed shortly by a trip that lead him to gain side mount. From there he delivered some damaging hammer fists causing the referee to stop the bout 1 minute and 39 seconds of the first round.
Fight Notes
BAMMA USA supported National Breast Cancer Awareness Month by featuring the color pink in the signage above the entrance to the Badbeat cage, supplying the referees and cutmen with pink wristbands, and having BAMMA USA staff wear pink ribbons during the Badbeat 7 show. The scheduled fight between Steve 'The Dream' Magdaleno (9-3) and Jason 'Trouble Maker' Williams (4-4) was cancelled due to a late injury sustained by Williams. The unprofessional actions by Xavier 'X-Man' Stokes of not showing up to weigh-ins and subsequently not having all his medicals in order lead to the fight night cancellation of his bout against Gil Guardado (1-0). BAMMA USA has requested disciplinary action be taken against Stokes by the California State Athletic Commission (CSAC) for his actions. Light Heavyweight Mike Smith is retiring from the Unites States Marine Corp after 20 years of service and numerous deployments, BAMMA USA thanks him and all the men and women of our armed forces for their service. The Badbeat 7 broadcast was carried live and free of charge on the internet via Livestream. Replays continue to play on the BAMMA USA LiveStream channel, just follow the link on http://www.BammaUSA.com. Friday, January 11, 2013 was announced as the date for Badbeat 8.
Contact:
Jose Grau
josegrau (at) bammausa (dot) com
Courtney Anaya
courtney (at) bammausa (dot) com
BADBEAT 7 PRESENTED BY BUDWEISER RESULTS
WHEN: Friday, October 12, 2012
WHERE: Commerce Casino
6131 Telegraph Road
Commerce, CA 90040
PRELIMINARY CARD
6. 205 lbs: John Hernandez (2-0) defeated Mike Smith (0-2) by Von Fue Choke, Rd 1
5. 135 lbs: Terrion 'Flash' Ware (4-0) defeated Marvin 'The Mad Lion' Madariaga (1-1) by Split Decision
4. 125 lbs: Bronson Casarez (4-0) defeated Anthony Frank (1-1) by Split Decision
3. 170 lbs: Adam Gonzalez (3-0) defeated Tony Stewart (1-1) by Guillotine Choke, Rd 1
2. 135 lbs: Ron Scolesdang (2-0) defeated Mike 'Mighty Mouse' Hansen (0-1) by TKO, Rd 1
1. 205 lbs: Christopher 'Buffalo' Schommer (1-0) defeated Nick Piecuch (0-1) by TKO, Rd 1
BAMMA USA is a mixed martial arts promotional company specializing in creating live entertainment, featuring both professional and amateur combatants. It is southern California's leading mixed martial arts organization, providing the area with monthly events and opportunities to professional and amateur athletes.
While the promotion prides itself on the motto: "Keep Moving Forward," the ultimate passion for BAMMA USA is to create an environment in which fighters are truly valued.
Web site: http://www.bammausa.com
Facebook: http://www.facebook.com/bammanation
Twitter: @BAMMAUSA