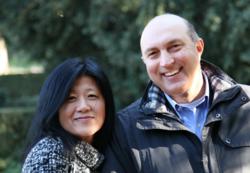 Stevie Kim, General Coordinator of Vinitaly International; Gianni Bruno, Brand Manager of Vinitaly
Verona, Italy (PRWEB) October 18, 2012
As Vinitaly Tour Russia (29th-30th October) and Hong Kong (8th-10th November) approaches, a busy programming of series of events is under way for the Ambassador of Italian Wine abroad – Vinitaly in the World. Yet, the latest developments are taking place at the very core of the organisation as Mr. Gianni Bruno will succeed Mrs. Elena Amadini as Brand Manager of Vinitaly effective as of the month of October.
"Mr. Bruno is no stranger to Vinitaly, an expert veteran organizer of trade fairs at Veronafiere for 27 years. In fact, he had successfully organised Vinitaly from 2003 to 2005. I am certain that he will lead an excellent, consolidated team to continue the long tradition of showcasing the very best Italian Wine exhibition in Verona", says Giovanni Mantovani, CEO of Veronafiere. In the recent years, Gianni Bruno has also worked closely with Stevie Kim, Managing Director of Vinitaly International and some exciting new projects in coordination seem to be already in the works. "Veronafiere will continue to forge ahead, even in these challenging economic times, with the utmost priority in delivering new technology, new ways of doing business with a value-add approach to every Italian winemaker", concludes Mantovani.
For the complete program of Vinitaly Tour Russia and Hong Kong at the International Wine & Spirits Fair (Hall 3G), which features the new exciting Ipad Application Vinitaly Interactive to record tasting preferences of all attendees, please see the following links:
http://www.vinitalytour.com/russia2012_eng.php
http://www.vinitalytour.com/china2012_eng.php
About Veronafiere
Veronafiere is the leading organizer of trade shows in Italy including Vinitaly, the largest wine event in the world (http://www.vinitaly.com). In 2012, over 4200 exhibitors showcased their wines to 140,000+ visitors (35% from outside of Italy representing over 120 countries). Since 1998, Vinitaly in the World has engaged in its role as the ambassador of Italian Wine abroad (http://www.vinitalytour.com). The latest development saw Vinitaly aiming at increasing Italian wine sales in China as it reinforced its partnership with the Hong Kong Trade Development Council (HKTDC), which organizes Asia's leading wine fair Hong Kong International Wine & Spirits Fair.
###