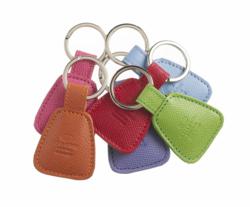 I bought the Giorgio Fedon iPad & iPhone cases and I love, love, love them. They get wonderful comments all the time.
Luxury Artisan are fabulous to buy from, excellent customer service, fast and reliable, I recommend them to anyone.
(PRWEB UK) 18 October 2012
After a year of hard work, Luxury Artisan celebrates its successful 1st year by giving away Italian leather keyrings with all orders until 31st October, as well as free worldwide delivery.
This offer is exclusive to our Newsletter subscribers. You can sign up to our email Newsletter here.
Luxury Artisan's ever-growing collection of handmade Italian leather products have proved to be a hit with people all over the world, with customers from Sydney to San Francisco. They have told us that they love the sheer quality of the products, their timeless designs, as well as the attention to detail.
In this tough economic climate, the future for Luxury Artisan looks bright. The coming year will see the addition of more quality heritage brands to its portfolio, as well as expansion into the USA with a dedicated US website.
ABOUT LUXURY ARTISAN:

Luxury Artisan is an internet retailer of luxurious Leather Products from heritage brands
All products are handmade by skilled craftsmen, using the finest quality leathers and materials
Since launch in 2011, Luxury Artisan has supplied quality leather goods to customers globally