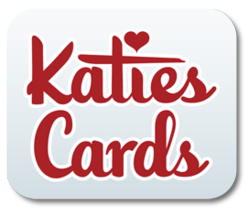 Nothing makes a message more engaging than a thoughtful and personalised, creative communication and with the holiday season nearly upon us, it's a good opportunity to organise Christmas cards well in advance and benefit from a discount at the same time
London, UK (PRWEB) October 24, 2012
Today, niche provider of online cards Katie´s Cards announced a one-off discount to customers of bespoke Christmas ecards. The 10% discount on its comprehensive range of ecards is available to both new and returning customers.
"Nothing makes a message more engaging than a thoughtful and personalised, creative communication" said Katie Davies, CEO of Katie's Cards. "Our bespoke ecards allow you to send a personalised message to customers, staff or any other important stakeholder group, using a unique, enticing animated card. And with the holiday season nearly upon us, it's a good opportunity to organise Christmas cards well in advance and benefit from a discount at the same time."
The cards can be created using either an existing ecard from the Katie's Cards extensive range or the many years of experience within the Katie's Cards design team can be employed to develop something completely new, an original design, using collateral from the customer's company. Customers may choose to send the ecards themselves, or through the Katie's Cards mailing system.
"Our designers and animators are all expertly qualified, highly creative and driven by quality," continues Davies. "We are yet to find a customer who has not been delighted by our interpretation of their creative brief!"
For customers wishing to amend an existing template, there are over 50 static and animated Christmas and holiday designs to choose from. Ease-of-use is at the heart of Katie's Cards' service, and the other corporate options offered include 'D.I.Y.' personalising cards from the existing collection, it is fast, simple and low cost; customers just upload a bespoke message, website address link and logo to transform the card.
"Our customers range from diverse sectors; recruitment consultancies to manufacturers, estate agents to boutique hotels," concludes Davies. "Over 50% of our customers are so pleased with their first purchase that they choose to use Katie's Cards again.
The offer, which is available on the website from 12am on the 22nd of October, and ends at midnight, discounts the full bespoke ecard package, whether adapting an existing template or developing and producing a new design.
About Katie's Cards
katiescards.com was established in 2007 and provides a range of over 200 ecards to consumers, for a range of international holidays and celebrations. It recently launched a business ecard service, offering organisations the ability to send static, animated or bespoke Ecards to their stakeholders. For more information on its consumer division, visit katiescards.com; for its business division katiescards.com/company, or follow the company on Facebook.
Company contact details
http://www.katiescards.com
35 Wick Road
Teddington
Middx TW11 9DN
United Kingdom
+44 208 274 2069