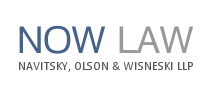 Harrisburg, Pennsylvania (PRWEB) October 20, 2012
The law firm of Navitsky, Olson & Wisneski (NOW Law) recently decided to expand its birth injury and cerebral palsy practice nationally. The firm has attorneys licensed to practice in Pennsylvania and New York, and will handle cases throughout the United Stated in conjunction with co-counsel and local counsel.
Cerebral Palsy is a devastating condition affecting the brain and central nervous system of an infant or child. It is often attributed to complications, such as oxygen deprivation, head trauma, or brain damage occurring before, during or shortly after delivery.
NOW Law, a cerebral palsy law firm, consists of experienced cerebral palsy lawyers and birth injury attorneys who have a reputation for excellence and who have been recognized by such organizations as Best Lawyers in America, Super Lawyers, and the Million Dollar Advocates Forum. The firm has been named by U.S. News and World Report as one of the Best Law Firms in the Personal Injury Category. Its lawyers have repeatedly secured million dollar and multimillion-dollar verdicts and settlements for their clients.
NOW Law has attorneys with medical training and experience who can properly evaluate and handle each case. Duane Barrick is both a medical malpractice attorney and a Registered Nurse. As an RN with 8 years of experience in and out of operating rooms, Duane gained extensive experience in and knowledge of various fields of medicine. He now puts this knowledge to work for NOW Law clients. Nijole Olson holds degrees in Medical Microbiology and Preventative Medicine-Epidemiology. She understands both the medical and legal aspects of complex malpractice cases and has put this knowledge to practice by obtaining multiple large settlements and significant jury verdicts throughout the state.
If your child suffered an injury during birth or has been diagnosed with cerebral palsy, contact the experienced cerebral palsy attorneys at NOW Law at 1-800-818-9608, or online at nowllp.com, for a free consultation. They will provide answers and will fight to obtain every dollar needed to take care of your disabled child.