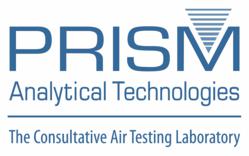 Prism Analytical Technologies provides comprehensive training and support for companies using or planning to use FTIR analyzers for Environmental Emissions Testing and/or Process Emission Monitoring and Control.
Mt. Pleasant, MI (PRWEB) October 23, 2012
Prism Analytical Technologies, Inc., a leading U.S. air testing laboratory devoted to chemical identification and analysis of air contaminants, announced today that it has broadened its offering of FTIR (Fourier transform infrared spectrometry) gas analyzer applications and support services to better assist companies deploying the technology for gas emissions, process, and environmental testing.
For the past 20 years, Prism Analytical Technologies has used FTIR gas analyzer technology to measure environmental and process gas emissions for companies throughout North America. Prism's chemists have over 40 years of collective field FTIR experience, and have educated over 1,000 engineers, scientists, and government compliance regulators throughout the world on how to effectively employ FTIR gas analyzer technology in their applications. The company's expansion of FTIR support services occurs in two key areas: Environmental Emission and Process Emission Testing.
Prism provides comprehensive training and support for companies using or planning to use FTIR analyzers for Environmental Emissions Testing and/or Process Emission Monitoring and Control. A comprehensive service offering includes classroom and field training, as well as EPA Method and ASTM Method training. Support services can also be provided which include method development, data validation, instrument troubleshooting, regulatory compliance support, and additional equipment and personnel as required. For Process Emission Testing, Prism provides the equipment and staff necessary to monitor most chemical processes in real time and delivers immediate feedback to process engineers working to develop or improve chemical processes. Prism can also help define and implement the correct FTIR gas analyzer technology for chemical processes where continuous monitoring is preferred or required.
Martin Spartz, Ph.D., Chief Marketing Officer of Prism Analytical Technologies, said, "We are excited to bring our numerous years of experience with this technology to anyone considering using FTIR for emissions testing and/or monitoring in a non-competitive way so that they are able to deploy the technology quickly through comprehensive training and support."
FTIR is a technique by which an infrared light is passed through a sample – in this case, a gas sample – and the sample absorbs a portion of the light at specific frequencies, depending on the chemical compounds in the gas. The resultant absorption spectrum is then analyzed to determine the chemical compounds present and their fractional concentrations from ppb (parts per billion) to percentage levels.
For more information, visit the Prism website and click on FTIR Support Services, or call (989) 772-5088 to speak to an FTIR specialist.
About Prism Analytical Technologies, Inc.
Prism Analytical Technologies, Inc. is a recognized leader in the development and deployment of ambient air testing methodologies for Fortune 100 and 500 companies and environmental consultants across North America, South America, and Europe. Since 1992, Prism's science-based technologies and team of advanced-degreed Analytical Chemists have helped clients solve indoor air quality and environmental challenges. Prism's latest innovation, Home Air Check™ is a revolutionary indoor air quality assessment that is used specifically to test for airborne chemicals and actively growing mold in residential properties. From the chemical fingerprint of the home, Prism can then predict the sources of VOC contamination, giving home buyers and homeowners actionable information to use in locating and removing the offending sources, and thereby improving the overall home air quality. For more information visit http://www.pati-air.com.