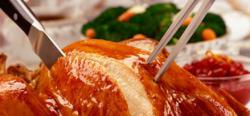 "We call Ray our Master Butcher, not only for his vast experience in his field, but also for his incredible skills as a teacher," said Herb Ruetsch, CEO of Fairway Market. "He will make the turkey carver a star at the Thanksgiving
table."
(PRWEB) October 20, 2012
Fairway Market's Master Butcher Ray Venezia will do turkey carving demonstrations, offering simple, easy-to-follow tips on making the most of the Thanksgiving bird on Saturday, November 3, 2012 at Fairway Market in Stamford, CT (699 Canal Street) from 11 am to 12:30 pm; at Fairway Market in Pelham Manor, NY (847 Pelham Parkway) from 1 pm to 2:30 pm, and at Fairway Market in Woodland Park, NJ (1510 US 46) from 3 pm to 4:30 pm.
Venezia, a third-generation butcher and Fairway's Meat Director, is often called upon by the media to show how anyone can carve like an expert.
"We call Ray our Master Butcher, not only for his vast experience in his field, but also for his incredible skills as a teacher," said Herb Ruetsch, CEO of Fairway Market. "He will make the turkey carver a star at the Thanksgiving table."
Fairway Market offers an exceptional combination of traditional, organic and specialty foodstuffs at great prices. Each of the 11 tri-state locations is a fusion of the best specialty stores, organic markets and traditional supermarkets with the services of the neighborhood corner butcher, baker, cheese shop, and fishmonger and the freshness and variety of the farmer's market - all under one roof.
Fairway Market
Fairway Market is a high-growth food retailer offering customers a differentiated one-stop shopping experience "Like No Other Market". Fairway has established itself as a leading food retailing destination in the Greater New York City metropolitan area, with stores that emphasize an extensive selection of fresh, natural and organic products, prepared foods and hard-to-find specialty and gourmet offerings, along with a full assortment of conventional groceries. Fairway is headquartered in New York, New York. See http://www.fairwaymarket.com.
Sterling Investment Partners
Sterling Investment Partners is a leading middle-market private equity fund that invests in companies with significant competitive strengths and growth potential. Founded in 1991, Sterling has completed investments, strategic or add-on acquisitions, and liquidity events with an aggregate transaction value of approximately $9.0 billion, representing more than 100 transactions. Sterling maintains a broad industry focus, including professional and business services, manufacturing, transportation and logistics, retail and technology-related businesses. http://www.sterlinglp.com