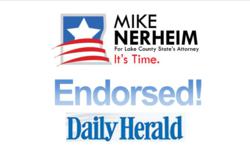 We believe Nerheim's private practice experience as a criminal defense attorney gives him an edge in the turnaround.
Lake County, IL (PRWEB) October 18, 2012
Chicago's Daily Herald newspaper today endorsed Mike Nerheim for Lake County State's Attorney stating the importance of the race in the November election.
"Lake County's next state's attorney faces the task of rebuilding faith and trust in the office shaken by high-profile wrongful convictions in recent years," wrote the Daily Herald in its endorsement.
The newspaper's editors compared the experience, campaign statements and evaluated the ideas put forth by both Republican Mike Nerheim of Gurnee and Democrat Chris Kennedy of Libertyville and wrote: "...we believe Nerheim's private practice experience as a criminal defense attorney gives him an edge in the turnaround. Going head-to-head against prosecutors daily on the types of felony cases at the root of the office's problems provides a unique perspective. We support Nerheim."
The Daily Herald also confirmed the advantages in legal experience that Nerheim offers voters. "His criminal defense work includes juvenile misdemeanor, traffic and civil litigation. Kennedy's work in private practice is mostly civil."
The newspaper also determined why it felt that Mike Nerheim's plan for addressing the critical wrongful convictions issue is better than what has been proposed by his opponent. "We like the independent nature of his case review concept," wrote the Daily Herald editors.
This is the latest in a string of high-profile endorsements received by Nerheim in advance of the November 6 election. Previous endorsements include: Retired Judges John Goshgarian, Tom Lang, Victoria Martin, John Radosevich and Emilio Santi, Retired Illinois Appellate Court Judge Lawrence Inglis, Attorneys Robert Baizer, Ed Genson, Thomas Briscoe, David Del Re,Timothy Evans, Elliot Pinsel, former Democratic candidate for State's Attorney Reginald Mathews, Waukegan Alderman Lisa May, Congressional Medal of Honor recipient Allen Lynch, former US Attorney and Chief of Staff to the President of the United States Samuel K. Skinner, Waukegan Firefighters IAFF Local 473, Lake County Sheriff Mark Curran and numerous law enforcement organizations throughout the county.
View these and more endorsements on mikenerheim2012.com
MORE ABOUT MIKE NERHEIM:
Mike Nerheim is a Republican candidate with extensive experience working in all criminal divisions of the Lake County State's Attorney's office. As an Assistant State's Attorney, he was well-respected by federal, state and local law enforcement for his guidance and approval of criminal charges and for his strong commitment to representing the needs of victims.
Nerheim is widely recognized for vigorously prosecuting those who have violated the law while respecting both the rights of victims and the rights of the accused to ensure no one is wrongfully convicted. He teaches "evidence" and "DNA," and has successfully used DNA evidence in prosecution of criminal sexual assault. He has been appointed by the courts to investigate post-conviction issues pursuant to the Illinois Post-Conviction laws. He has written and argued post-conviction petitions on behalf of indigent defendants in defense of their constitutional rights.
Nerheim is an experienced prosecutor and defense attorney who is fair and dedicated to equal justice for all. His experience also includes areas of complex civil litigation and municipal law.
He has demonstrated strong leadership and business experience, and is actively involved in supporting the Lake County community. He serves as Teen Court Judge in Warren Township, Advisory Council member of Staben House, and Vice Chair of Lake County Bar Foundation.