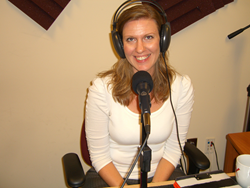 Informal Learning is a trend that is developing in the training world.
Atlanta, GA (PRWEB) October 19, 2012
On October 17, 2012, BusinessRadioX®'s Learning Insights spoke with Jamie Cornelius from InterContinental Hotels Group (IHG) about training and learning strategies. Co-host Stone Payton also welcomed to the microphone Mike Sammond, new host to the BusinessRadioX® family.
IHG is a global hotel company whose goal is to create Great Hotels Guests Love. They have more guest rooms than any other hotel company in the world – that's more than 666,000 rooms in over 4,500 hotels in nearly 100 countries and territories around the world. IHG operates nine hotel brands – InterContinental, Crowne Plaza, Hotel Indigo, Holiday Inn, Holiday Inn Express, Staybridge Suites, Candlewood Suites, EVEN™ Hotels and HUALUXE™ Hotels and Resorts. Their strategy is to build the hotel industry's strongest operating system focused on the biggest markets and segments where scale really counts.
Jamie Cornelius is a Manager of Global Hotel Learning Design at IHG. She and her team create training solutions for their client group, WorldWide Sales. For the past two years, Cornelius has been working with the sales team to drive a learning culture to support the new sales culture IHG is implementing around the world.
According to Cornelius, IHG sales training is looking to be more forward-thinking and strategic rather than just responding to management requests. Sales people for IHG are selling events - corporate meetings, seminars, weddings, family events, etc. Cornelius' team is tasked with keeping the sales force trained and up-to-date.
Cornelius explained IHG's Informal Learning Strategy. "Informal Learning is a trend that is developing in the training world." She describes their training process as 70% informal learning, 20% on-the-job training and 10% formal classroom training. Cornelius further described the "implementation of a web portal where sales people can do informal learning on their own through tools, resources and self-assessments."
Cornelius' team also employs the measurement strategy of Kirkpatrick's Levels of Evaluation, essentially asking if every training opportunity answers (1) did the sales team like the training, (2) did the sales team learn anything, (3) are they using the skills attained in training in the workplace, and (4) is the company getting any ROI from sending the sales team to training.
Says Cornelius, "The world of training and design is changing and evolving, and we're trying to change with it."
To learn more about IHG's approach to training, you can listen to this interview in its entirety at Learning Insights.
About Learning Insights Radio:
http://www.learninginsights.businessradiox.com
Learning Insights airs weekly on Wednesdays at 10am EST. Co-hosts Lee Kantor and Stone Payton interview learning professionals Improving Performance to Drive Business Results.
About BusinessRadioX®:
BusinessRadioX® provides a turnkey solution for business owners who want to leverage the power of internet radio to meet their best prospects, establish credibility for their organization and heighten the placement of their brand in search engines rankings. With a professional venue and a proven formula, BusinessRadioX® helps hosts podcast their shows and create a regular stream of dynamic content to share with their prospects and feed the search engines every week. Programs are recorded and streamed live to the internet from our studios in the greater Atlanta area. For more information or to hear a live show, visit: http://www.businessradiox.com.