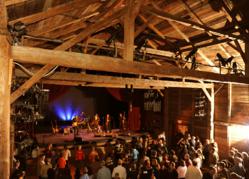 Vienna, Virginia (PRWEB) October 18, 2012
Tim O'Brien
Special Guest:
Old Man Luedecke
Thursday, November 8 at 8 pm
$24
Tim O'Brien
Country and bluegrass veteran Tim O'Brien returns to The Barns at Wolf Trap for the first time in three years. O'Brien originally made a name for himself in the folk music landscape during the '80s as a founding member of the band Hot Rize. The band was notable for their progressive sound and lively stage shows, which often featured sets by an alter-ego group fronted by O'Brien, Red Knuckle and The Trailblazers. In his subsequent solo career, O'Brien has been recognized with multiple awards, twice earning the International Bluegrass Music Association Male Vocalist of the Year Award as well as a GRAMMY Award for his 2005 album Fiddler's Green. Many of O'Brien's songs have been recorded by artists such as Dixie Chicks, Garth Brooks, Dierks Bentley, Nickel Creek, Kathy Mattea, New Grass Revival, and Seldom Scene. One of his many collaborators, Mark Knopfler, offers very high praise, describing O'Brien as "a master of American folk music, Irish music, Scottish music–it doesn't matter; a fine songwriter and one of my favorite singers."
Video: Tim O'Brien – Look Down That Lonesome Road
Old Man Luedecke
Nova Scotia native and two-time Juno Award-winning artist Chris Luedecke brings his unique brand of uplifting, narrative-driven folk songs to The Barns at Wolf Trap as Old Man Luedecke. Luedecke is touring in support of both his newest album, Tender Is The Night (2012), and its producer, Tim O'Brien. Recorded with a backing band in Nashville, Tennessee, this is Luedecke's fifth studio release and continues a recent trend that ventures away from his signature one-man, banjo-driven song style. His preceding album, a collaboration with fellow Canadian musicians Lake of Stew, was nominated for a Canadian Folk Music Award in the category of Contemporary Album of The Year.
Video: Old Man Luedecke – I Quit My Job
Chaise Lounge
Friday, November 9 at 8 pm
$20
Chaise Lounge
The '60s swing-jazz scene comes alive thanks to the D.C.-based jazz ensemble Chaise Lounge, who revives an era of music from decades past. Comprised of local musicians Marilyn Older (vocals), Charlie Barnett (guitar, piano), John Jensen (trombone, trumpet), Gary Gregg (woodwinds), Pete Ostle (bassist), and Tommy Barrick (drummer), the band is making the rounds in support of their fourth album, 2012's Insomnia, of which the Midwest Record Review said, "It's cool no matter where you want to pin it. It's different and if you are up for something new… you and this record are ready for each other." In addition to the band, front man Charlie Barnett has written music for more than 400 television shows and films, including Saturday Night Live and The Cosby Show, while vocalist Marilyn Older has contributed her songs to several independent films. The Barns at Wolf Trap is the final stop in their Sleep is Overrated Tour.
Video: Chaise Lounge – Whole Wide World is Shakin'
Eddie From Ohio's
Julie Murphy Wells
Saturday, November 10 at 7:30 pm
$25
Julie Murphy Wells
Known largely for sharing lead vocalist duties with Robbie Schaefer in the folk band Eddie From Ohio, Alexandria native Julie Murphy Wells will showcase her cabaret and jazz talents for the local crowd at The Barns at Wolf Trap. Wells has toured and performed with Eddie From Ohio for over 20 years, and the band has been recognized as the Best Contemporary Folk Group by the Washington Area Music Association on multiple occasions. After finding local success and national recognition with Eddie From Ohio, Wells began her solo career with 1994's No Rules. Her follow-up album, Sophisticated Lady (1996), features classic jazz covers, highlighting her range and diversity as an artist.
Video: Eddie From Ohio - Drive
###
Tickets can be purchased by calling 1(877)WOLFTRAP; or online at http://www.wolftrap.org
For more information, call The Barns at Wolf Trap at (703) 938-2404 or our general information line at (703) 255-1900.