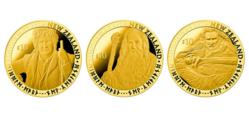 London, UK (PRWEB) October 20, 2012
To mark the release of the first instalment of Peter Jackson's Hobbit trilogy-An Unexpected Journey, a unique set of highly collectible gold and silver coins has been created. Featuring favourite characters from the films and books such as Frodo Baggins, Gandalf and Gollum the coins are sure to be a huge hit with collectors from around the world. The New Zealand Post has exclusive rights to issue and mint the commemorative coins and they will be available to buy from the first of November.
The hype is already building about the much anticipated first film in the new Hobbit trilogy. An Unexpected Journey will have its world premiere on the 28th of November in Wellington NZ and the city be renamed "The Middle of Middle Earth" for three weeks to mark the occasion. The film is set to go on general release in the UK on December 14th.
The set of coins to be minted by The New Zealand Post range in price from $30NZ to $10,995NZ and are available to pre-order from its website. The most expensive coins in the collection are a limited edition of just 250 sets of three coins featuring Bilbo, Gandalf and Thorin Oakenshield. Minted with 0.9999 gold they come with an individual numbered certificate and lockable wooden case. A more affordable option is The Hobbit: An Unexpected Journey Uncirculated Brilliant Coin which is available to collectors for the more modest price of $29.90NZ.
While the coins may be legal tender in New Zealand the experts at silvercoinexpert.com can't see too many people popping to the shops to buy a loaf of bread with them. The coins will instead become instant collector's items with coin enthusiasts and fans of the film queuing to snap them up.
About silvercoinexpert.com
The http://silvercoinexpert.com/ website is a complete resource for collectors of silver coins and anyone who wishes to invest in silver. Featuring informative articles, daily blog posts and up to date silver prices from the international commodity markets the site has everything a collector needs to stay up to date.