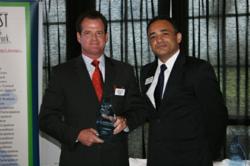 Our employees are essential to our growth and the quality we provide.
Vero Beach, FL (PRWEB) October 18, 2012
"The Best Places to Work-Indian River County" award is selected through a computer generated process designed by Personnel Dynamics Consulting. The achievement for the three categories, segmented by total number of employees, is awarded based on workplace practices and programs. Organized by the Workforce Solutions and Chamber of Indian River County, this process serves as a valuable tool for business and human resource planning.
In the category of 50-150 employees, Girard Equipment took home the prize. Based on the analysis GEI was given this honor because of their strong employee benefits plan, training programs, and employee recognition as well as incentives that included: group bowling and softball tournaments, BBQ's, flu shot clinics, and more.
"Having this title is a true honor," says President of GEI Mr. Timothy Girard. "Girard Equipment works hard to produce high quality parts for the liquid transportation industry and having that continued quality level for the past 60 years is a true testament to our great employees."
The Best Places to Work is an annual award and Girard Equipment looks forward to bestowing this honor year after year. Being an industry leader, growing globally by offering world class products with world wide service; Girard Equipment knows that at the root of all that is their team of employees. To find out more about the Girard Equipment philosophy, news, and products please visit http://www.girardequip.com