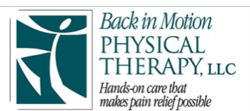 Because Maine is a direct access state and our patients don't need a referral, we want to make sure that they receive a high quality of care by way of one-on-one time with our therapists
PORTLAND, ME (PRWEB) October 22, 2012
With two successful physical therapy clinics, Back in Motion Physical Therapy is opening a third location in November 2012, to be located at 1041 Brighton Avenue, Portland, Maine. The physical therapy clinic combines manual therapy with advanced techniques and exercises to ensure that patients are completely treated.
According to Inc. magazine, the projected number of physical therapy establishments in the United States in 2016 will be 123,351 (1). Back in Motion is helping the industry grow with the opening of its third clinic.
Four major points should be established in order to have a successful physical therapy clinic (2):
1.Define your unique services;
2.Get involved in your community;
3.Invest in continuing education for physical therapists; and
4.Exceed customer expectations.
Back in Motion has proven results, and part of the reason for this is that the clinic has followed the above points. This is manifested in a 35% increase in the number of patients just within the last 10 months. Due to this tremendous growth, Back in Motion is expanding their South Portland clinic into larger quarters, as well.
Back in Motions' highly-qualified physical therapists specialize in manual therapy, and deliver unique one-on-one care. Each patient has dedicated time spent with a therapist, whose qualifications and titles include Doctorate of PT, Bachelor's degree in athletic training, Orthopedic Certified Specialist (OCS), Bachelor's of Kinesiology, and Bachelor's of Science in Applied Exercise and Cardiopulmonary Rehabilitation.
"With our third location opening, we make it easier for our patients to come to appointments and stay healthy," commented Michel Brunet, Executive Director of Back in Motion Physical Therapy. "Because Maine is a direct access state and our patients don't need a referral, we want to make sure that they receive a high quality of care by way of one-on-one time with our therapists."
In addition to providing therapy services in Maine, Back in Motion participates in health fairs, sponsors local sports teams, offers free screenings, and has Patient Appreciation Week.
Similar to the two existing locations, the new Back in Motion Physical Therapy center will offer early morning, lunchtime and evening appointments. They accept most insurance, including Medicare and Workers' Compensation, and honor all major credit cards.
For more information on Back in Motion Physical Therapy and the upcoming opening, visit http://www.mainephysicaltherapy.com.
About Back in Motion Physical Therapy:
Back in Motion Physical Therapy is an established provider of physical therapy in Maine. Located in three convenient locations (Gorham, South Portland and Portland), the clinic provides patients with the latest treatment modalities, hands-on healing, and personalized attention for better results. Owners Mary and Michel Brunet are licensed Physical Therapists in Maine. Back in Motion offers services which include manual physical therapy, treatments for arthritic conditions, pre- and postsurgical rehab, chronic joint pain relief, neuromuscular evaluations, and pregnancy-related pain. For more information, visit http://www.mainephysicaltherapy.com.
(1)Donnelly, Tim. Inc.com, April 11, 2011. "Best Industries 2011." http://www.inc.com/best-industries-2011/physical-therapy.html
(2)Worrell, Jeff. Putmebacktogether.com, Accessed October 11, 2012. "Make Your Physical Therapy Clinic Stand Out." http://www.putmebacktogether.com/Home/PhysicalTherapyArticles/PhysicalTherapyArticle/itemId/145/Make-Your-Physical-Therapy-Clinic-Stand-Out-from-C.aspx