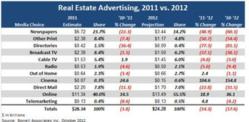 Anyone selling online marketing applications to agents and brokers is beginning to see even better numbers.
Williamsburg, VA (PRWEB) October 18, 2012
Amid signs that the real estate industry is springing back to life, Borrell Associates is reporting that the industry's advertising expenditures are showing a mild improvement as well. But it's only better-bad news: Real estate advertising is still likely to be down by 14.6% this year, compared with the company's earlier estimate of a 16.4% decline. Both broadcast and print continue to see ad revenue fall off a cliff, while spending on out-of-home and online advertising continue to increase.
"Anyone selling online marketing applications to agents and brokers is beginning to see even better numbers, while those in the print and broadcast industry might get their thrill in seeing less of a decline," said Kip Cassino, vice president of research for Borrell Associates.
Overall, real estate ad spending will total $24.3 billion this year, compared with $28.3 billion in 2011. The decrease is caused in part by the housing industry's decline and in part by a 10-year trend in which agents have been diverting money from more-expensive traditional media channels into lower-priced online channels. The findings are detailed in Borrell's report, "2012 Real Estate Advertising Outlook: The Long Road Home."
Borrell's recent sampling of agents and brokers in three markets showed that 45% said they didn't plan to buy any advertising from traditional media channels, while 7% said they planned to decrease their spending on these channels. The biggest planned increase, according to survey participants, was social media, email marketing and search engine optimization (SEO). Nearly one-third said they were increasing spending on these areas.
Mild improvement in the housing industry this fall has caused some to declare that real estate sales are "back" after a devastating six years. The U.S. Department of Commerce reported that September housing starts were up 15% from August. In addition, housing permits, which indicate future building and sales, rose 11.6%. Last year, home builders began construction on 434,000 single-family homes, the worst year on record. This year, single-family starts will be up 21% from last year, then increase 26% and 30% in the next two years, according to the National Association of Homebuilders.
Borrell's report forecasts that "planned purchases" – one of the key indicators that spurs real estate advertising expenditures – will be up for all five types of homes next year: existing homes, mobile homes, second homes and new construction.
For more information on Borrell's report, visit http://www.borrellassociates.com.