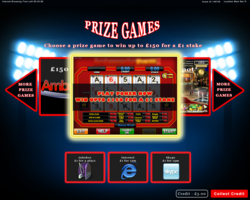 While we are happy to use our expertise to deliver high-quality, bespoke kiosk applications to our customers, we are equally happy for them to utilize the Genkiosk platform to provide their own, or third-party content to their customers
Sheffield, UK (PRWEB) October 19, 2012
The power of Genkiosk Kiosk Software and Kiosk Management System was demonstrated again on Monday 1st October when the first pilot of a new multi-function Kiosk went live in the UK. With little bespoke work, the Genkiosk Kiosk Software was deployed as a platform for Paid Internet Browsing, Mobile Payments and Digital Gaming. This is not the first time Genkiosk has been used in the provision of Digital Gaming content, but the flexibility of the Genkiosk platform was really put to the test by the multi-functional nature of the Kiosk.
"It was important that this particular project could get to proof-of-concept stage without a lengthy up-front development process" said project manager Ben Widdows. "Rather than delaying the ROI by trying to provide the full solution up front, the project was able to benefit from a configurable platform that was able to be tailored to the specific needs of the deployment by non-technical personnel. We can use the time we save to get the pilot underway and iteratively refine the product while the kiosks are in the ground, earning revenue right from the outset".
The project further demonstrated the flexibility of the Genkiosk Kiosk Software, which ranges in deployed application from Photo Printing Kiosks, to Bill Payment Kiosks, to Money Transfer Kiosks as well as Digital Gaming Kiosks among others. "While we are happy to use our expertise to deliver high-quality, bespoke kiosk applications to our customers, we are equally happy for them to utilize the Genkiosk platform to provide their own, or third-party content to their customers." said Marek Narkiewicz - CTO of GWD Media Ltd.
Genkiosk Kiosk Software is used worldwide, as far away as Manila and Suva and as close to home as your local store. Genkiosk Kiosk Management System handles millions of transactions a month. Genkiosk Kiosk Software, by GWD Media Ltd is suitable for the full range of self-service kiosks.
GWD Media is headquartered in Sheffield, UK, and operates worldwide.