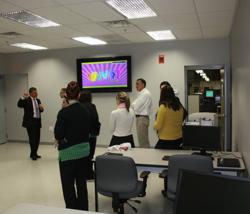 The QuickLabel College Lab is an investment in our customers. Since 1994, we've hosted 319 classes and over 1,000 students have come through these doors. We look forward to training thousands more.
West Warwick, RI (PRWEB) October 19, 2012
QuickLabel Systems, a brand of Astro-Med, Inc. (NASDAQ: ALOT), held an official ribbon cutting ceremony to inaugurate its newly revamped QuickLabel College Lab. The new training facility will foster a learning environment where QuickLabel customers will be thoroughly educated in how to use their QuickLabel digital color label printer and labeling software. The new Lab follows a 10,000 square ft. expansion of its label factory in 2010 and underscores Astro-Med's continued commitment to manufacturing in Rhode Island and to providing long-term customer support.
As he inaugurated the new lab with a ceremonial ribbon cutting and invited QuickLabel employees and customers in to tour the new Lab for the first time, Mark Paul, Technical Support and Training Manager, said, "This is Lab is an investment in our customers. Since 1994, we've hosted 319 classes and over 1,000 students have come through these doors to learn the ins and outs of our products. We look forward to training thousands more."
QuickLabel College instruction spans the course of 2 days. Any company that purchases a QuickLabel production-capacity digital color label printer such as the Kiaro!, Vivo! Touch, QLS-4100 Xe, or QLS-3000 Xe is entitled to send two employees to attend QuickLabel College free of charge. The skills learned while attending QuickLabel College include how to turn your label artwork designs into stunning printed labels, how to properly maintain your label printer for longevity and high functionality, and how to utilize the features of Custom QuickLabel® software. According to the Company, the College curriculum is so comprehensive that it is also used internally as a way to train QuickLabel employees to gain knowledge, experience, and understanding of what QuickLabel printers have to offer customers.
According to the Company, the decision to reinvest and renovate the QuickLabel College Lab followed years of positive feedback from its customers about the label printer training. QuickLabel customer International Wines raved, "Please thank everyone again for the great learning experience we had at QuickLabel College. We had been using our Vivo! Touch for a while before we came up to the course, and while we knew we still had a lot to learn, we were amazed at how many tips and tricks we picked up on in areas that we thought we already had down pat. Our wine labels have never looked better! It's also nice to have two people here that know how to do everything now – just in case one of us is out and something comes up we are totally self-sufficient! Anyone with a Vivo! Touch MUST attend QuickLabel College or they are missing out!"
QuickLabel printer owners who are familiar with QuickLabel College explain that this customer service is one of the reasons that they purchase from QuickLabel. Terry Jinks of Corta-flx Equine and Canine Joint Health Supplements was very enthusiastic about the program and explained that, "Our company has four different models of QuickLabel printers and I've been up to QuickLabel for the College on all of them. QuickLabel provides an excellent value-added service through the College, and I've always found it to be extremely helpful."
To enroll in QuickLabel College, simply fill out this short form to attend QuickLabel College.
About QuickLabel Systems and Astro-Med, Inc.
QuickLabel Systems is a leading manufacturer of digital color label printers used by manufacturers and processors who want to print their own labels in-house, as well as barcode label printers, thermal transfer ribbon, labels, and custom label printing services. QuickLabel Systems is a brand of Astro-Med, Inc., a manufacturer of high tech specialty printing systems, electronic medical instrumentation, and data acquisition systems for test and measurement. Astro-Med, Inc. (NASDAQ: ALOT) is a member of the Russell Microcap® Index. Additional information is available by visiting QuickLabel.com. Keep up with QuickLabel Systems on Twitter at Twitter.com/QuickLabel and on Facebook at Facebook.com/QuickLabel.