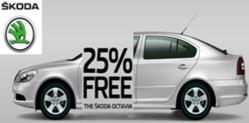 NO VAT, 25% off, 0% Finance, FREE servicing Just what will it take to get consumers to buy a new car
(PRWEB) October 19, 2012
According to the Global Auto Report published on the 4th October 2012 on behalf of Scotiabank, Global sales of new vehicles increased by 8% in July/August this year over the same period last year.
This increase owes much of its growth to South America and China in addition to international new car deals.
The USA generated its best sales in September since 2008 owing much of this increase to low rate finance deals and consumers trading up to more economical models. The USA was closely followed by an increase in sales by Canada and the UK all helping to achieve a staggering 61.96 million new vehicles sold this year (including light commercials).
The staggering fact is that an estimated 29.2 million new vehicles are expected to be sold in Asia and South America alone, accounting for nearly 50% of total sales.
Due to falling sales in most of Europe and a favourable exchange rate, manufacturers are dumping over supply of new vehicles into the UK. This is causing huge strains on the dealer network and an increase of new vehicles being Pre Registered. This in turn means after many years of under supply in the UK we now have over supply with some fantastic new car deals available.
According to the Society of Motor Manufacturers and Traders (SMMT) car production fell by 5.8% in September & commercial vehicle production fell by 20.2% over the same period. It would seem likely production may now continue to decline therefore now is the time to grab a bargain.
According to Amin Saleem CEO of UK http://www.autoebid.com , "We have over 30% of the entire UK dealer network signed up and have never seen so many special offer available to consumers from so many manufacturers."
Car manufacturers are now desperate for more sales for this quarter therefore now is the time to obtain great new car deals.
END
CONTACTS
Amin Saleem, CEO Auto eBid, email amin(at)autoebid(dot)com, Tel 07771 557500
ABOUT AUTO EBID:
Amin Saleem founded Auto eBid in 2003. It's a unique Internet service that uses a 'reverse auction' system that allows car dealers to bid against each other for customers' business.
The website http://www.autoebid.com receives over 80,000 unique visitors a month and has processed over 4,000 successful auctions worth in excess of £80m, saving customers many millions, versus the original RRP of their chosen cars. This combination of big savings and ultimate convenience has led to a 98% customer satisfaction rating.
Watch our video http://www.youtube.com/watch?v=tWvSCsLa46E
VEHICLE IMAGES/DEALS
Images and example deals can be found on any vehicle on our website.