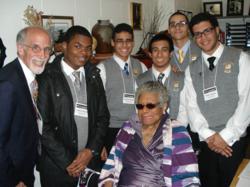 Bronx, NY (PRWEB) October 19, 2012
The great American literary figures of Maya Angelou, Rita Dove, and Nikki Giovanni hosted a special event honoring the life and work of Toni Morrison on Tuesday, October 16, 2012 at Virginia Tech. Twenty Mount Seniors helped open up the program by reciting the Maya Angelou poem "Harlem Hopscotch".
Morrison, who currently lives on the Hudson River near the Palisades in New York, won the Nobel Prize in literature in 1993 and in 1988, the Pulitzer Prize for fiction for "Beloved," which was adapted into a film starring Oprah Winfrey in 1998. In 2006, a survey of writers and literary critics by The New York Times ranked "Beloved" as the best of work of American fiction for the past 25 years.
Mount President Dr. Miserandino contacted Ms. Giovanni after hearing her speak of the planned event last winter on the Tavis Smiley show. He explained that the Mount was a great school from the Bronx and students from deserving and hard working families would benefit from attending the unique cultural and literary program hosted by Giovanni and Angelou. After hearing more about the Mount and its program, Ms. Giovanni enthusiastically asked the Mount to join the celebration. Funding was found by Ms. Giovanni to support the trip to the celebration.