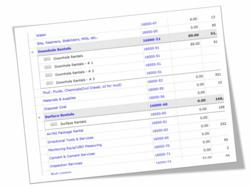 Houston, Texas (PRWEB) October 18, 2012
WellEz released an upgrade to their field reporting software that allows operators to track AFE information and field cost estimates easier than ever before.
The new features were automatically released to all subscriber accounts. By providing field reporting software in a Software-as-a-Service business model, WellEz ensures that all clients are using the most recent version of their reporting system without ever having to install or upgrade software.
The new cost reporting features will give the rig personnel much more flexibility when entering field costs. Instead of entering the daily total for each line item in the AFE, the field consultant will be able to dynamically expand certain codes and break-down field cost estimates to provide even more detail. For example, rig users will be able to add sub-items to certain codes, like "Subsurface Rentals" and enter the daily amount and vendor for each rental item, instead of just a daily total.
In addition to dynamic sub-codes, WellEz will also release the ability to add a customizable vendor pick-list to each daily cost. This pick-list will reduce data-entry problems and allow operators to quickly summarize total invoice costs by vendor at the end of a drilling or completion job.
Founded in 2000, WellEz Information Management is a privately held, international oilfield service company located in Houston, Texas. The leading provider of field reporting tools for drilling, completions, and other operations, WellEz is staffed by experienced oil and gas professionals and a team of highly qualified software developers. The company's web‐based field software for well lifecycle reporting is the comprehensive solution to limitations, user difficulties, and support issues that are often encountered with traditional reporting software. For more information, visit our website.
###