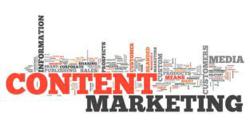 90% of marketers have stated that content marketing will become significantly more important over the next 12 months.
(PRWEB) October 23, 2012
Businesses have always understood that quality content plays a pivotal role when attracting the attention of target audiences, but what's surprising is that many companies do not have an effective content strategy in place.
Waseem Saddique asserts: "Content marketing is nothing revolutionary, but similar to social media it has gained a renewed emphasis. The biggest contributor to the renewed focus of content marketing is the changing nature of consumer habits."
Recent studies, such as this report released by the Content Marketing Institute, identifies that over three quarters of shoppers (around 83%) tend to undertake online product research before committing to buy electronic items.
Recent changes by Google, in particular its Panda update, has also led to marketers having to rethink their approach to search engine optimisation (SEO) strategies, putting a greater emphasis on the need for quality content.
At present around 90% of marketers have stated that content marketing will become significantly more important over the next 12 months and there is no denying that companies will begin to recognise the rising prominence of content marketing. 64% of marketers also agree that content marketing is now becoming its own discipline separate from that of social media.
Yet, despite social media marketing and content marketing each becoming a discipline in their own right, they are still closely connected. The need to create great content serves as a great platform for engaging consumers through social media like Twitter and Facebook.
Another study released by Buyer Sphere, identified that 83% of in-house marketing experts utilise social media posts and updates for marketing purposes and this is far more than any other type of content marketing.
However, very few businesses actually have specific resources aimed at improving their content marketing strategies. According to the Buy Sphere report, less than half of organisations (approximately 34%) have a budget allocated for developing content marketing techniques.
Waseem Saddique comments: "Many companies embarking on producing effective content marketing strategies have cited many challenges when it comes to improving the quality of their content. Most marketers claim that a lack of understanding and training are the main barriers that stand in the way of advancing content marketing strategies."
Regardless of the challenges faced by businesses though, content marketing is indeed making a high profile return as focus shifts from content quantity to content quality. Therefore, the significance of content marketing on business survival in the next 12 months is something that needs to be taken seriously.
With this in mind it appears that the message has already been received by many businesses, as the study conducted by the Consumer Marketing Institute points to evidence that 58% of businesses featured in their report are planning to implement content marketing strategies in the future. Alongside social media, the power of content marketing is the future of attraction for the changing consumer market.