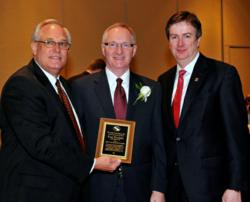 During his tenure, Plunkett has overseen a revolutionary expansion of services offered by PCU.
(PRWEB) October 25, 2012
Russ Plunkett, President and CEO of Postal Credit Union (PCU) in Minnesota, has now joined the ranks of retirees, handing the keys to his successor, Brian Sherrick, on October 19. Plunkett joined PCU in 1981 and was named to succeed the then-retiring Ron Madery as president in 1992.
During his tenure, Plunkett has overseen a revolutionary expansion of services offered by PCU. When he started in 1981, electronic services consisted of the telephone and a few dummy computer terminals. Today, PCU incorporates the latest technology into its service offerings, including online banking and bill pay, and mobile banking. In addition, PCU offers e-statements, online loan approval, online deposits, access to a broad ATM Network, credit and debit card capabilities and more. Under his leadership, PCU's Mortgage department has expanded to include loan origination, complete closing and title services, and mortgage servicing. PCU also added Business Services to its full line of financial solutions and opened three new offices in Eagan, Hugo and Woodbury. Assets have grown from $109 million in 1992 to $541 million as of September 30, 2012.
Earlier this year Plunkett was inducted into the 2012 Credit Union House Hall of Leaders, one of 13 credit union leaders honored by Credit Union House LLC in Washington, D.C. In September, he was honored as a Credit Union Builder by PCU through the Minnesota Credit Union Foundation. He is well-respected in the credit union movement and passionate about the mission of credit unions and cooperatives worldwide.
Plunkett's successor, Brian Sherrick, joined PCU in 1984 as a college intern. Prior to his promotion, he served as Executive Vice President Operations/Lending and had oversight of mortgages, commercial services, business development, marketing, and branches and served as Credit Manager. Sherrick also serves as chairman of the PCU Community Foundation, and sits on the Board of Directors of the Minnesota Credit Union Foundation.
Founded in 1926, PCU is a member owned financial institution that specializes in providing excellent member service, great rates and convenience. PCU offers a complete range of services, including 24/7 loan approval, mortgages, online banking, online deposits, checking, business services, investment services and more. PCU is proud to serve Anoka, Chisago, Dakota, Hennepin, Ramsey and Washington counties, with office locations in Eagan, Hugo, North St. Paul, West St. Paul and Woodbury. For more information, contact PCU at 651-770-7000, 800-247-0857 or visit http://www.postalcu.org.