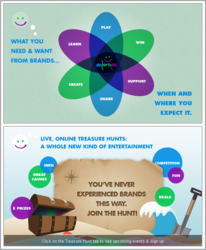 Not only will you get relevant information and deals, you will be having fun competing and trying to win!
Malvern, PA (PRWEB) October 19, 2012
New social and entertainment site adpropo strives to enable consumers to get the information and value they need from brands in a much more fun, collaborative, and valuable way. adpropo announced today a great way to experience the site live via an upcoming online Treasure Hunt (with $600 in giveaways) scheduled for October 24 at 9 pm ET.
A survey completed by adpropo last fall assessed consumer attitudes toward online ads - and found that depending on the type of ad, dissatisfaction with those ads ranged from 40% to 70%. The site was created to give consumers more power in interacting with brands by providing a platform programmed with creative content featuring a variety of brands and delivered in a transparent and expected manner.
"We are here to address the fact that right now, there isn't a great, centralized way for brands and consumers to get what they need from each other," says Stephanie Rosenlund, Founder of adpropo. "However, each side clearly needs the other, so we are building fun ways to increase benefits all around. Something we've been largely focused on to date is our totally unique Treasure Hunts. Feedback from all the people who have participated in the first several events has been great - they have had fun, they have seen value, and they have found the format to be a really neat way to learn about brands relevant to them."
Treasure Hunts are a form of branded entertainment, where players compete for cash and prizes, as well as product deals and cause support. Each event revolves around a theme, and consists of a series of clues about cool brands or products that fit under that theme. Participants have to answer questions by visiting websites and Facebook pages, watching videos, listening to songs, and more. The Hunt on October 24th will focus on Holiday Shopping and will provide a great opportunity to get good ideas and deals to help with holiday gift lists. This is ideal for the procrastinator and the proactive alike, providing a reason to pencil in some time to get a jump on holiday shopping.
"If you have ever been annoyed by online ads intruding in your personal pursuits, check out adpropo and participate in this Treasure Hunt. We strongly believe that brands and consumers can both get what they need in this format," offers Rosenlund. "And remember, our site is new, so we are learning and adapting as we go. We are looking for ideas and feedback from everyone who joins - your input really will matter as we continue to develop and grow the site."
Since going live in April 2012, adpropo has given away more than $2,000 to two partner charities, Arise Academy Charter High School and Children's Brain Tumor Foundation, and over $8,000 has been given away in prizes to roughly 60 winners. To participate in a Treasure Hunt, register for adpropo, then visit the Treasure Hunt schedule to find relevant events. Detail pages include all necessary information and one-click sign up.